Real Estate Terms Pocket Dictionary: A Quick Reference Guide To Over 500 Of The Most Important Real Estate Terms (Paperback)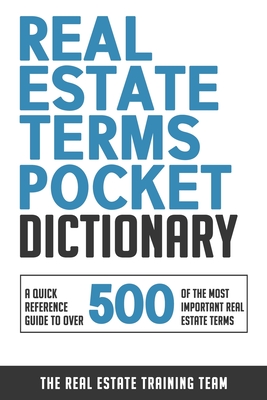 $12.99

Special Order- Usually Ships in 1-5 Days
Description
---
Struggling to understand real estate terms? This quick, on-the-go dictionary is a perfect solution.
Do you have a hard time understanding real estate terminology? Do you wish there was a quick and easy to understand guide to summarize real estate concepts? The Real Estate Training Team has once again put together another helpful resource for aspiring real estate professionals. Let us explain in clear and concise words exactly what these different real estate terms mean.
After working with thousands of real estate professionals, The Real Estate Training Team has learned exactly what new real estate professionals are looking for. This easy-to-follow reference guide makes understanding even the most difficult of real estate terms easy. The Real Estate Terms Pocket Dictionary gives you all the real estate terms that are actually used in the business in an easy to understand explanation.
In this quick reference guide you'll discover:
Easy to understand definitions of the 500 most commonly used real estate terms
Examples and explanations of how these terms are actually used in the real estate business
Further training and materials available on the Real Estate Training Team's website
Common formulas and equations
And much, much more
Finally, you no longer have to search through thousands of pages of dictionaries with complicated definitions. With a quick reference guide like this, you can easily understand all the terms in the real estate industry and become a better real estate professional.
If you like straightforward, quick, and easy-to-understand information, then you'll love the Real Estate Training Team's newest publication with the Real Estate Terms Pocket Dictionary
Buy The Real Estate Terms Pocket Dictionary today to understand the real estate industry terminology