Crystal Ball Photography for Beginners: The Complete Step by Step Manual For Beginners and Seniors to Master Crystal Ball Photography (Paperback)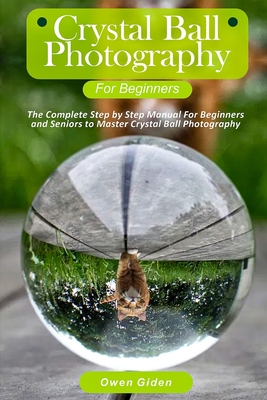 $10.99
Email or call for price.
Description
---
Give your photography skills a massive creative boos with this Crystal ball Photography Guide Crystal ball photography is a popular and fun activity for photographers of all levels and experience. Whatever type of photography you specialise in, you may be looking to try something a little different in terms of your creative process. Crystal balls cause refraction as water does, but rather than searching for elusive raindrops to shoot through, a crystal ball is an accessory you can take with you anywhere. Think of it as an extra, external lens to use with your existing lenses.The good news is that it doesn't take an expert or tons of expensive equipment to create the crystal ball effect. As long as you have a glass ball, a camera, a lens, and a good subject, you can produce plenty of high-quality photos. A user guide is very important since it will give you all information and also guideline to use any equipment and this Crystal Ball Photography manual has been specifically designed to help you understand how it works. This Includes a setup guide, expansion, tips, experiences and troubleshooting information to help you get the best out of it.Here's a preview of what you'll learn: What do I need to consider when buying a crystal ball? Which camera do I need and which settings do I have to use?Which subjects and scenes are best suited?How do I maintain, clean, store and transport a crystal ball?How important is post-processing and which programs should I use?How to take crystal ball portrait imagesHow to take landscape photos with a crystal ballAlternative glass ball landscapes, and how to composethemTo grab a copy of this book, please scroll to the top of this page and click the buy now button.