Japanese Tales of Mystery and Imagination (Paperback)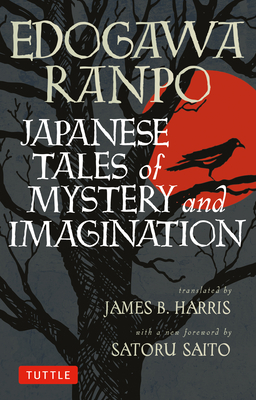 $15.95

Special Order- Usually Ships in 1-5 Days
Description
---
This collection of mystery and horror stories is regarded as Japan's answer to Edgar Allan Poe.
Japanese Tales of Mystery & Imagination
, the first volume of its kind translated into English, is written with the quick tempo of the West but rich with the fantasy of the East. These nine bloodcurdling, chilling tales present a genre of literature largely unknown to readers outside Japan, including the strange story of a quadruple amputee and his perverse wife; the record of a man who creates a mysterious chamber of mirrors and discovers hidden pleasures within; the morbid confession of a maniac who envisions a career of foolproof "psychological" murders; and the bizarre tale of a chair-maker who buries himself inside an armchair and enjoys the sordid "loves" of the women who sit on his handiwork. Lucid and packed with suspense, Edogawa Rampo's stories found in
Japanese Tales of Mystery & Imagination
have enthralled Japanese readers for over half a century.
Mystery stories include:
The Human Chair
The Caterpillar
Two Crippled Men
The Traveler with the Pasted Rag Picture
About the Author
---
Edogawa Rampo (Hirai Taro, 1894-1965) is widely regarded as the father of Japanese mystery writing. Born in Mie Prefecture, he graduated in 1916 from Waseda University and took on a series of odd jobs, working as an accountant, clerk, salesman, and peddler of noodles from a cart, before discovering his vocation as a writer. The first modern writer of mysteries in Japan, and long-time president of the Japan Mystery Writers' Club, Rampo derived his pen name from the Japanese pronunciation of Edgar Allan Poe, under whose spell he fell early in his career. Dr. Patricia Welch is an Associate Professor of Japanese and Comparative Literature in the Department of Comparative Literature at Hofstra University.