The Tale of Genji: Scenes from the Worlds First Novel (Paperback)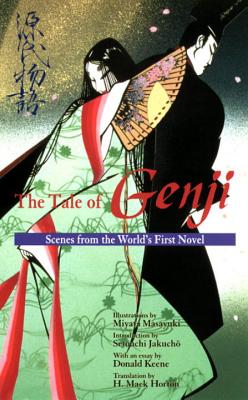 $35.00
Email or call for price.
Description
---
A lushly illustrated edition of a world classic The third in this series of illustrated Japanese classics, The Tale of Genji again combines Miyata's captivating paper cut-outs with a modern retelling of a vintage story. This well-known tale of the amorous adventures of Prince Genji is widely considered world literature's first novel, and with
its precise and poetic prose, it is also considered one of its finest. Written with precision by a lady of the Japanese court, Genji's Don Juan-like clandestine rendezvous with lovers in their perfumed boudoirs or on mossy moonlit garden paths, continues to intrigue lovers of literature. What sets Genji apart from the typically carefree playboy is the intensity of his
emotional attachment for each of his lovers. Long after an affair has ended, Genji continues to cherish the encounter. His is an age-old tale, as well as a poignant and brilliant portrait of Japan's ancient court life.
About the Author
---
Illustrations: MASAYUKI MIYATA (1926-97), paper cut-out artist, was discovered by the distinguished writer Tanizaki Jun'ichiro and went on to create his own distinct realm in kiri-e (cut-out illustrations). In 1995, Miyata was selected from among contemporary artists worldwide to be the UN'sofficial artist. Miyata's representative works include illustrations for The Narrow Road to Oku, Love Songs from the Manyo'shu and The Tale of the Bamboo Cutter. Introduction: SETOUCHI JAKUCHO Novelist. Born in Tokushima Prefecture in 1922. Setouchi established her name with a biography of the pioneer feminist author Tamura Toshiko. She continued to write biographies of contemporary politicians and literary feminists and also published semiautobiographical novels. In 1973 she became aBuddhist nun. Setouchi's principal works include the novel Natsu no owari (1962, The End of Summer), Kanoko ryoran, a biographical novel of the contemporary woman writer Okamoto Kanoko, and a modern translation of The Tale of the Genji (1998). Translation: DONALD KEENE (1922- ) Donald Keene, an American scholar of Japanese literature, was born in New York in 1922. He graduated from Columbia University where he first began the study of Japanese in 1941. During World War II he served in the U.S. Navy as a translator and interpreter of Japanese. After the war he returned toacademic life. Form 1948 to 1953 he taught Japanese at Cambridge University. He received the Ph.D. degree from Columbia University in 1951 with his study of The Battles of Coxinga, the play by Chikamatsu Monzaemon. He returned to Columbia University in 1955 after two years' study at Kyoto University, and he taught there until 1992, when he retired as University Professor Emeritus. His publications ranging in time from a study of the Kojiki to discussions of contemporary literature, has increased appreciationof Japanese literature in other countries. His honors include the Kikuchi Kan Prize, awarded in 1962, the Order of the Rising Sun, Third Class (1975), the Japan Foundation Award (1984), the Tokyo Metropolitan Prize (1987), and Fukuoka Asian Culture Prize (1991). He is a foreign member of the Japan Academy... He is also a member of theAmerican Academy and Institute of Arts and Letters. His book Travelers of a Hundred Ages, Published in 1984, received both the Yomiuri Literature Prize and the Shincho Grand Prize. His considerable research into Japanese literature and contribution to its introduction outside Japanese was recognizedwith the Asahi Prize in 1998. Other publications include the four-volume history of Japanese literature, consisting of Seeds in the Heart, World Within Walls, and the two volumes of Dawn to the West, as well as numerous translations of both classical and modern works. Since his retirement from Columbia University he has been active as a writer and lecturer. Translation: H. MACK HORTON U.S. scholar and translator. Born in Boston in 1952. Horton received his Ph.D. in Japanese literature from the University of California, Berkeley, where he is now Associate Professor. His publications include a two-volume translation and study of the poetic diary of Socho, a medieval linked-versepoet, and a translation of The Tale of Genii Picture Book by Setouchi Jakucho and Ishiodori Tatsuya (Kodansha, 1999).