The War on Populism: Consent Factory Essays, Vol. II (2018-2019) (Paperback)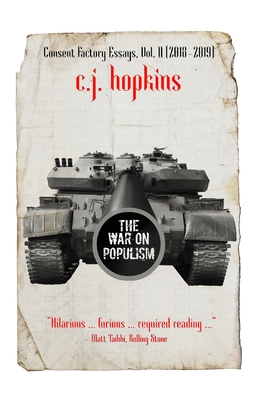 $12.65

Special Order- Usually Ships in 1-5 Days
Description
---
In this second volume of his Consent Factory essays, C. J. Hopkins continues his irreverent coverage of the mainstream media and political establishment's reaction to the presidency of Donald Trump and the so-called "new populism" that put him in office.
"Hilarious ... furious ... required reading ..." (Matt Taibbi, Rolling Stone), the essays in this collection cover the insanity of 2018 and 2019. Russiagate, mass "fascism" hysteria, the new McCarthyism, the war on dissent, the Hitlerization of Jeremy Corbyn, the demonization of the working classes, identity politics, and all the rest of the establishment's "war on populism."
In this time of extreme political polarization and enforced conformity on both the Left and the Right, Hopkins' political satire and commentary presents a refreshingly unorthodox analysis of the forces at play in the world today -- global capitalism, neo-nationalism, populism, neo-fascism, etc. -- and cuts through the official propaganda, sensationalism, and disinformation that often passes for mainstream news.
Featuring popular Hopkins essays like Who Doesn't Love Identity Politics?, Down with the Working Classes , A Russiagate Requiem, and Trumpenstein Must Be Destroyed , The War on Populism is an infuriating yet hilarious account of the establishment's attempts to crush the "populist rebellion" that began in the summer of 2016, and over the next four years brought America to the brink of civil war, or perhaps a "color revolution."