12 Rules for Life: An Antidote to Chaos (CD-Audio)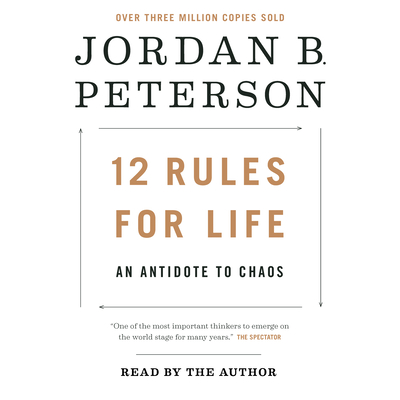 $45.00
Email or call for price.
Description
---
Renowned psychologist Jordan B. Peterson, an intellectual provocateur like no one since the arrival of Camille Paglia, brings his uncompromising voice to readers wanting to lead a deeper and more profoundly meaningful life.

At once informative, surprising and humorous, Dr. Peterson tells us straightforwardly why skateboarding kids should be left alone, why you should always pet a cat when you meet one on the street, and what dreadful fate awaits those who carelessly criticize everything but themselves.

Why should you never let your children do anything that makes you dislike them? Why did the ancient Egyptians worship the capacity to pay attention as the highest of their gods? What can we learn from the lowly lobster about standing up straight and moving forthrightly through life? Dr. Peterson discusses discipline, responsibility, and the necessity of clear, truthful thinking, distilling the discoveries of science and the lessons from the great myths of the world into 12 profound directives for living properly in today's ever-transforming world. 12 Rules for Life delves deeply into the hidden realms lurking beneath our commonplace assumptions, enlightening the mind and spirit of its readers, keeping the chaos and nihilism that threaten and tempt the modern mind firmly at bay.
About the Author
---
JORDAN B. PETERSON, raised and toughened in the frigid wastelands of Northern Alberta, has flown a hammer-head roll in a carbon-fiber stunt-plane, explored an Arizona meteorite crater with astronauts, and built a Kwagu'l ceremonial bighouse on the upper floor of his Toronto home after being invited into and named by that Canadian First Nation. He's taught mythology to lawyers, doctors and business people, consulted for the UN Secretary General, helped his clinical clients manage depression, obsessive-compulsive disorder, anxiety, and schizophrenia, served as an adviser to senior partners of major Canadian law firms, and lectured extensively in North America and Europe. With his students and colleagues at Harvard and the University of Toronto, Dr. Peterson has published over a hundred scientific papers, transforming the modern understanding of personality, while his book Maps of Meaning: The Architecture of Belief revolutionized the psychology of religion. The author lives in Toronto, ON.