We Are Satellites (Paperback)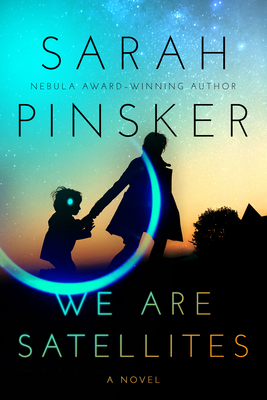 $18.00

Special Order- Usually Ships in 1-5 Days
Description
---
"Taut and elegant, carefully introspected and thoughtfully explored."—The New York Times

From Hugo award-winning author Sarah Pinsker comes a novel about one family and the technology that divides them.

Everybody's getting one.

Val and Julie just want what's best for their kids, David and Sophie. So when teenage son David comes home one day asking for a Pilot, a new brain implant to help with school, they reluctantly agree. This is the future, after all. 

Soon, Julie feels mounting pressure at work to get a Pilot to keep pace with her colleagues, leaving Val and Sophie part of the shrinking minority of people without the device.  

Before long, the implications are clear, for the family and society: get a Pilot or get left behind. With government subsidies and no downside, why would anyone refuse? And how do you stop a technology once it's everywhere? Those are the questions Sophie and her anti-Pilot movement rise up to answer, even if it puts them up against the Pilot's powerful manufacturer and pits Sophie against the people she loves most.
About the Author
---
Sarah Pinsker's Hugo, Nebula, and Sturgeon Award-winning short fiction has appeared in Asimov's and F&SF, as well as numerous other magazines, anthologies, and translation markets. She is a singer/songwriter who has toured behind four albums on various independent labels. She lives with her wife in Baltimore, Maryland.
Praise For…
---
ONE OF BUZZFEED'S BEST SCIENCE FICTION BOOKS OF SPRING

"A stunning sci fi novel that asks important questions about our future, all while rooted in the emotional core of this one loving family."
—BookRiot
 
"Pinsker's meticulous research and melodious prose bring readers to the heart of a family and the challenges of societal expectations, technology, and the desire to advance without fully understanding the consequences."
—Library Journal (starred review)
 
"Pinsker's newest is a carefully crafted sci-fi web stretched over an intensely human core."
—Booklist (starred review)

"A graceful exploration of what one seemingly small change means for one family…Capturing the universal in the down-to-earth and specific is one of Pinsker's gifts, and here it's on remarkable display."
—Tor.com

"A fascinating novel that explores how technologies can transform family dynamics."
—Buzzfeed

"A compassionate, richly-textured look at how one ordinary family deals with the next wave in productivity technology...Best of all, the novel's futuristic premise feels as realistic and lived-in as its characters' love for one another."
—Annalee Newitz, author of Autonomous and The Future of Another Timeline

"Pinsker writes intensely human sci-fi, exploring with nuance and heart the ways technology impacts the emotional lives of her characters....it's a deeply empathetic story of a family struggling with everyday impossibilities. We Are Satellites will drill a tiny—entirely painless—aperture in the side of your skull, snake its way inside, and rewire how you think about the lines between yourself, technology, and those we love."
—Bob Proehl, author of The Somebody People

Praise for Sarah Pinsker's A Song For a New Day:

"An all-too plausible version of the apocalypse, rendered in such compelling prose that you won't be able to put it down...a lively and hopeful look at how community and music and life goes on even in the middle of dark days and malevolent corporate shenanigans."—Kelly Link, Pulitzer Prize finalist and author of Get In Trouble

"You'd better keep a copy of A Song for a New Day with you at all times, because this book will help you survive the future. Sarah Pinsker has written a wonderful epic about music, community, and rediscovering the things that make us human. Pinsker has an amazing ear for dialogue, a brilliant knack for describing music, and most importantly a profound awareness of silence, in both its positive and negative aspects. A Song for a New Day restored some of my faith in community, and I didn't even realize how much I needed this book right now." –Charlie Jane Anders, national bestselling author of All the Birds in the Sky and The City in the Middle of the Night

"Experiencing Sarah Pinsker's A Song For a New Day is like listening to a fine, well-rehearsed song unleashed live. It's a deeply human song of queer found family and the tension between independence and belonging, thoughtful and raw like the best live music. It's also a cautionary tale of what happens when we privilege convenience over connection. If you love performance—the magic of head-thrown-back ecstatic musical communion—read this book."—Nicola Griffith, author of Hild

"A compelling book about the importance of music--and any sort of art--in a world where it seems like the least essential thing. This is an expertly drawn post-catastrophe world peopled by compassionately written characters."—Ann Leckie, Hugo Award winning author of Provenance

"Establishes [Pinsker] as an astonishingly impressive writer of day-after-tomorrow SF…This tale of hope and passion is a remarkable achievement."—Publishers Weekly (starred review)

"A post-apocalyptic tale about the power of art and the urgency of human connection...cements Pinsker's status as a rising star in the world of speculative fiction. A gorgeous novel that celebrates what can happen when one person raises her voice."—Kirkus (starred review)
 
"Pinsker's first novel is a riveting and plausible look into what our world could be if we become consumed with fear and dependent on social media. It is also a love letter to live music and underground shows, imagining futuristic musical innovations and the punk rebel scene that could emerge in response to a closed-off world."—Booklist (starred review)

"Pinsker's first novel depicts a moving alternate future in which technology provides everything a person could want, except human contact. Themes of virtual reality, humanity, and music are threaded throughout this melodic story."—Library Journal (starred review)