The Backyard Birdsong Guide Eastern and Central North America: A Guide to Listening (Cornell Lab of Ornithology) (Hardcover)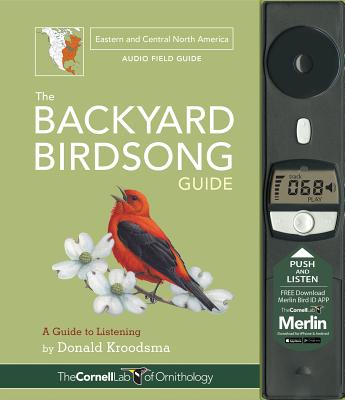 $34.95

Special Order- Usually Ships in 1-5 Days
Description
---
With more than 300,000 copies already sold, Backyard Birdsongs is back by popular demand. The Cornell Lab of Ornithology is proud to rerelease this widely acclaimed bird audio field guide series, from award-winning ornithologist and author Donald Kroodsma.
Suitable for beginning bird watchers, Backyard Birdsongs is an interactive handbook of birds and their songs. With a touch-button electronic module that contains common vocalizations of seventy-five species from across eastern and central North America, this volume offers a truly sensory way to identify and get to know local birds. Crisply detailed, scientifically accurate illustrations accompany each entry, and up-to-date range maps provide clear geographical reference points. With an introduction that will inspire readers to look out their windows and venture into the field, this unique book gives people of all ages an exciting entryway into the subtle art of using birdsong to identify birds.
This second edition includes a much-requested new Sound Track Index (to help make watching and listening to birds easier), and access to a free download of the Cornell Lab's own MERLIN(R) Bird ID App (in iTunes and Android stores). As with all Cornell Lab Publishing Group books, a portion of the net proceeds from the sale of Backyard Birdsongs supports projects at the Cornell Lab, including children's educational and community programs.
About the Author
---
Donald Kroodsma is professor emeritus of ornithology at the University of Massachusetts, Amherst, and a world-renowned authority on birdsongs. He is the author of The Singing Life of Birds (winner of the 2006 John Burroughs Medal Award and the American Birding Association's Robert Ridgway Distinguished Service Award for excellence in publications pertaining to field ornithology), The Backyard Birdsong Guides, and Birdsong by the Seasons. Donald's work on bird song is legendary. In 2003 the American Ornithologists' Union called him the "reigning authority on the biology of avian vocal behavior." Kroodsma received his Ph.D. at Oregon State University and has traveled all over North and South America researching bird song. He is a Visiting Fellow of the Cornell Lab of Ornithology, American Ornithologists' Union, and the Animal Behavior Society and has published hundreds of academic and popular articles. He lives in Hatfield, MA. Larry McQueen painted the popular Project FeederWatch eastern and western Common Feeder Birds posters. Bird images from those posters and from other sources, including three original watercolor paintings done for BirdSource's Warbler Watch site, are used throughout both the Cornell Lab of Ornithology's web site and the BirdSource web site. Larry's work is widely known and respected, having appeared widely in calendars, catalogs, and magazines, including the Lab's own Living Bird. He has illustrated for many books, such as The Audubon Master Guide to Birding, and you'll find his images in a number of field guides. Originally from Mifflinburg, Pennsylvania, Larry earned degrees from Idaho State University and the University of Oregon. After a career in fish and game management and then as a graphic designer, he started painting full-time in 1977. He now lives in Eugene, OR. Jon Janosik was born in Connecticut in 1941. Living with my grandparents on their Trumbull farm in my formative years, he became enchanted with wild birds, nature and Biology. He became acquainted with Roger Tory Peterson and gained many early skills in the field while attending Peterson's local bird walks. Jon's work has been featured in such books as Field Guide to North American Birds (National Geographic Society), Birds of the Ligonier Valley (Carnegie Museum), The Audubon Society Master Guide to Birding, An Audubon Handbook, Western/Eastern Birds, and Book of North American Birds (Readers Digest Books). Jon's works have been exhibited in numerous museums, and galleries including: Kobe Museum, Sanda Japan; The Smithsonian, National Museum of Natural History, Washington DC; Leigh Yawkey Woodson Art Museum-Wausau WI; Carnegie Museum, Pittsburgh PA; Moji Art Galley, Kitakyushu Japan; Royal Scottish Academy, Edinburgh (Birds in Art), Kirritappu Wetland Center, Hokkaido, Japan and the British Museum, London England.