Eight Hundred Heroes: China's Lost Battalion and the Fall of Shanghai (Hardcover)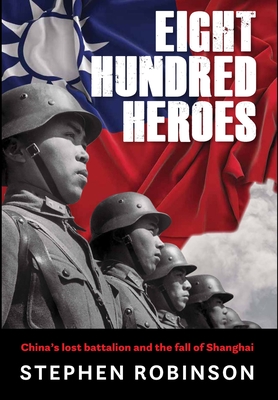 $35.99

Special Order- Usually Ships in 1-5 Days
Description
---
Acclaimed historian Stephen Robinson brings to life a legendary last stand.
Shanghai 1937. With invading Japanese troops poised to capture one of the world's greatest cities after almost three months of brutal urban warfare, the Chinese Army begins to retreat – except for a single battalion that stays behind to fight. These soldiers led by Lieutenant Colonel Xie Jinyuan, known as the 'Eight Hundred Heroes', defended Sihang Warehouse – a six-storey concrete building and natural fortress. The men repulsed waves of Japanese attacks with intense bravery as thousands of spectators looked on from the relative safety of the British Concession inside Shanghai's International Settlement. Western journalists with front row seats to the spectacle spread the story across the globe as the plight of the heroes captured the sympathy of the world. Their valour raised Chinese morale as did the actions of the heroine Yang Huimin, a Girl Guide who delivered a Chinese flag to the defenders that flew over Sihang Warehouse as a beacon of hope.
Eight Hundred Heroes is an in-depth account, resulting from extensive research that for the first time comprehensively utilises first-hand accounts of the Chinese participants and the observations of westerners who witnessed the battle at close range. It also explains how this incredible feat of heroism became an enduring myth that helped define modern China.
About the Author
---
Stephen Robinson studied Asian history and politics at the University of Western Sydney, graduating with First Class Honours. He has worked at the Department of Veterans' Affairs researching British atomic weapons tests and as a policy officer in the Department of Defence. Stephen Robinson is also an officer in the Australian Army Reserve and has served as an instructor at the Royal Military College. He also graduated from Australian Command and Staff College.
Praise For…
---
The tale of Xie Jinyuan and his small band of soldiers who defended a Shanghai warehouse against the Japanese in 1937 has become a legend. With deep research and thoughtful and empathetic interpretation, Stephen Robinson has done two important things: first to tell the tale for a western audience and then to explain why it resonates so deeply in Chinese popular memory even today. This is thrilling history and a powerful insight into contemporary Chinese culture.—Rana Mitter, Professor of the History and Politics of Modern China, University of Oxford

Eight Hundred Heroes by Stephen Robinson is a detailed and thrilling account of China's Alamo and modern mythmaking. The book sheds new light on this unique story that is well-remembered in China today.—Matthew Legare, author of Shanghai Twilight and Shadows of Tokyo

The story of the 1937 battle of Sihang Warehouse, the resistance against the Japanese onslaught of Shanghai, and the heroism of the 800 Chinese soldiers who fought to the bitter end is one of the great stories of bravery in the Second Sino-Japanese War. Yet it is so little acknowledged outside China. Stephen Robinson's highly readable history of the event is both comprehensive and concise, detailed yet placing this definitive event within the broader history of wartime China.—Paul French, author of City of Devils and Destination Shanghai