Social Skills & Communication Mastery: 50+ Exercises For Overcoming Anxiety, People Skills, Effective Small Talk & Charisma+ How To Analyze People& Em (Paperback)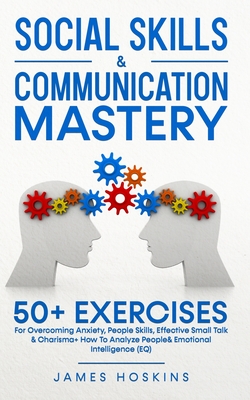 $19.52

Special Order- Usually Ships in 1-5 Days
Description
---
If You Want To Discover How You Can Rapidly Improve Your Social &Communication Skills Even If You Currently Struggle With Social Anxiety That Makes Any Kind Of Conversation An Uphill Battle Then Keep Reading...
We all know 'those' kind of people.
People's faces light up as they enter the room.
People listen, when they speak.
The kind of people that are naturally able to communicate with anyone and 'wow' them with their charisma, charm & amazing conversation skills. (Even if the convo is filled with small talk )
As a result, these people naturally rise to the top in their field, have an array of deep relationships & greatly benefit greatly from their natural socializing abilities.
That could be you. And, this book has been written to show you how.
One thing we are NOT suggesting is to start playing a role, pretending to be someone you're not.
Instead, we want to encourage you to let your true personality flourish, free of the burdens you employ without even knowing it.
Like anything, Socializing is a skill that can be mastered, and yes, some have a natural head start, but that doesn't mean you can't develop your Social Skills to the same level of mastery.
You're in the right place to overcome your Social Anxiety, supercharge your social skills & effortlessly let your natural charisma flow
Here's a tiny example of what's inside...
- 5 Keys To NEVER Run Out Of Things To Say In A Conversation AND Go Beyond Basic Small Talk To Truly Connect With People You Meet
- Decode How Someone Is Truly Feeling With These 3 Body Language Cues
- 3 Simple, Yet Wildly Effective Tips, For Overcoming Your Shyness & Social Anxiety For Good & Actually Start Enjoying Socializing (It's Possible )
- 5 Ways You Can Develop Rapport With Everyone You Come Into Contact With, No Matter Their 'Social Status'
- The Fundamentals To Developing Meaningful Relationships & Friendships To Get The Social Life You've Always Truly Desired
...And SO Much More
So, If You Want A Practical Blueprint To Rapidly Improving Your Social Skills Beyond What You Thought Was Possible, Then Scroll Up And Click "Add To Cart."