Food for Life: The New Science of Eating Well (Hardcover)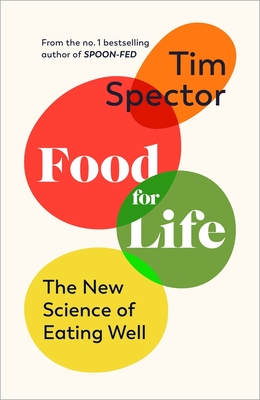 $39.99

Special Order- Usually Ships in 1-5 Days
Description
---
From the author of Spoon-Fed and The Diet Myth, a comprehensive guide to the new science of nutrition, drawing on Tim Spector's cutting-edge research as one of the world's leading experts in food science.

- Food for health
- Food for your microbes
- Food as medicine
- Food as mental health
- Food for immunity
- Food for the planet
- Food for life

Food is our greatest ally for good health, but the question of what to eat has never seemed so complicated. Tim Spector has pioneered a science-based approach to nutrition, encouraging us to forget misleading notions of calorie counts or nutritional breakdowns.

In Food for Life he draws on over a decade of cutting-edge scientific research, along with his own personal insights, to deliver a new and comprehensive guide to what we should all know about food today.

Taking a wide-angle lens on everything from environmental impact and food fraud to allergies and deceptive labeling, Spector also shows us the many wondrous and surprising properties of everyday foods, which scientists are only just beginning to understand.
About the Author
---
Tim Spector is a professor of genetic epidemiology at King's College London and honorary consultant physician at Guy's and St Thomas' hospitals. He is a multi-award-winning expert in personalized medicine and the gut microbiome, and the author of five books, including Spoon-Fed and The Diet Myth. He appears regularly on TV, radio and podcasts worldwide, and is one of the top 100 most cited scientists in the world. He co-founded the personalized nutrition company ZOE and leads the world's biggest citizen science health project, the ZOE Health study.
Praise For…
---
'A compelling read that challenges convention with hard, evidence-based science, something of a rarity in today's "wellness" obsessed culture of fad diets and juice cleanses. Spoiler - supplements really won't solve your problems! . . . Spector's new book is a must-read for the scientifically semi-literate pandemic survivor, looking to live a fuller and healthier life." —Forbes

"The nutrition revolution is well underway and Tim Spector is one of the visionaries leading the way. His writing is illuminating and so incredibly timely." —Yotam Ottolenghi on Spoon-Fed

"[The Diet Myth] is structured as a takedown of diet myths, but it's much more than a self-help advice book. It's witty, well-written and broad-ranging, littered with fascinating factoids and case studies. Spector thoughtfully explains the strengths and weaknesses of the available evidence, drawing on research on gut microbes as well as his long-­running studies on the genetics of twins and his own often hilarious experiments with various diets." - The New York Times on The Diet Myth
"A fascinating and original look at the impact of food on our bodies, underpinned by cutting-edge research." - Dr. Michael Mosley, author of the #1
New York Times
Bestseller
The Fast Diet
on
The Diet Myth
"A concise, entertaining book that demystifies the benefits of balanced microbes through healthier eating. " -
Kirkus
on
The Diet Myth
"Engaging and wide-ranging,
The Diet Myth
provides a great summary of the current evidence linking microbes and diet, and shows the intriguing possibilities for monitoring one's own microbes. It points toward exciting future studies and technologies." - Dr. Rob Knight, acclaimed author of the TED Talk "How Our Microbes Make Us Who We Are" on
The Diet Myth
"Lucidly written,
The Diet Myth
provides a first-class education about the conjunction of our microbes and our health." - Dr. Martin Blaser, author of
Missing Microbes: How the Overuse of Antibiotics is Fueling Our Modern Plague
on
The Diet Myth