Atlas of Vanishing Places: The lost worlds as they were and as they are today WINNER Illustrated Book of the Year - Edward Stanford Travel Writing Awards 2020 (Unexpected Atlases) (Hardcover)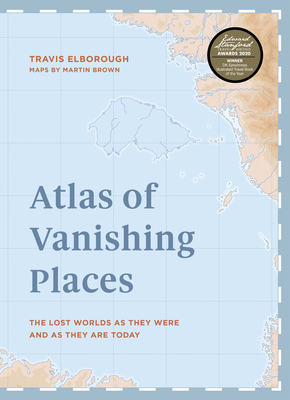 Description
---
WINNER Illustrated Book of the Year - Edward Stanford Travel Writing Awards 2020

Imagine what the world once looked like as you discover places that have disappeared from modern atlases.

Have you ever wondered about cities that lie forgotten under the dust of newly settled land? Rivers and seas whose changing shape has shifted the landscape around them? Or, even, places that have seemingly vanished, without a trace?
 
Following the international bestselling success of Atlas of Improbable Places and Atlas of the Unexpected, Travis Elborough takes you on a voyage to all corners of the world in search of the lost, disappearing and vanished. Discover ancient seats of power and long-forgotten civilizations through the Mayan city of Palenque; delve into the mystery of a disappeared Japanese islet; and uncover the incredible hidden sites like the submerged Old Adaminaby, once abandoned but slowly remerging.

With beautiful maps and stunning colour photography, Atlas of Vanishing Places shows these places as they once were as well as how they look today: a fascinating guide to lost lands and the fragility of our relationship with the world around us.

Also in the Unexpected Atlas series: Atlas of Improbable Places, Atlas of Untamed Places, Atlas of the Unexpected.
About the Author
---
Described as 'one of the country's finest pop culture historians', Travis Elborough is an acclaimed author and social commentator who lives in London. His work delves into the ephemera of retro culture as well as the history of London, geography, and a broad range of other subjects. His Atlas of Vanishing Places won the Illustrated Book of the Year at the Edward Stanford Travel Writing Awards in 2020, and he has also written The Bus We Loved, a passionate love letter to the Routemaster bus which defined London transport for more than 50 years. His other works include A Traveller's Year, A London Year, The Long-Player Goodbye, Being A Writer and A Walk in the Park: The Life and Times of a People's Institution. Travis is a regular contributor to Radio 4 and the Guardian, and has penned articles on all aspects of travel and culture, from pirates in the Caribbean to donkeys at the British seaside. He has written for the Times, Sunday Times, New Statesman, BBC History Magazine and Kinfolk among others, and is a visiting lecturer at the University of Westminster, where he teaches creative writing.
Praise For…
---
'Beautifully written, inspiring photography, sleek design and exquisite maps depicting ancient and forgotten lands in all their former glory… But this book is so much more than a call to travel to the far-flung corners of the globe…it is a welcome and timely reminder of the beauty and fragility of the world in which we live, and the importance of safeguarding it for future generations.  A joy to read, and a hands down winner for me.' 
 —Danielle Watt, Judge, DK Eyewitness Illustrated Travel Book of the Year, Edward Stanford Travel Writing Awards 2020

'The vanishing places featured in this atlas, from archaeological sites to encroached ecosystems, all compel... A reminder of earthly evanescence — and of the urgency to preserve what we can of what remains.' 
 —Nature magazine

'The temporal sweep of the book is immense... very nicely produced with alluring photographs and lovely colour maps... a great Christmas gift for budding explorer and armchair traveller alike.' —Hackney Citizen