Smart Travel Guide to 16 National Parks in the Western United States: Camping & Hiking Guide (Also In -Depth Guide to Yosemite, Olympic & Grand Canyon (Paperback)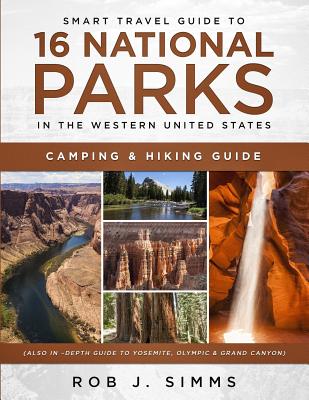 $12.55

Special Order- Usually Ships in 1-5 Days
Description
---
Smart Travel Guide to 16 National Parks in the Western United StatesCamping & Hiking Guide(Also In-Depth Guide to Yosemite, Olympic & Grand Canyon)
I have always been what you may call a "National Park junkie." I love the uniqueness, the natural wilderness and the breathtaking beauty of each of our national parks. In the last 26 years, I have visited all 59 of our national parks at least once, but I must admit that I visited 35 of them more times than I want to admit. The parks that I discussed in this series, I visited a dozen times or more. Some of them I know like I know my own 23-acre ranch that I grew up and still live in Texas.
In this three-volume guide, I'll take you to all the National Parks in the United States. Each guide will walk you through the basics so you can prepare for a trip to any of the locations listed with little to no trouble whatsoever. Then, I'll give you the must-see spots so you can enjoy the best of the National Parks in a single day if you don't have time to stay longer than that.
I'll also give you a few itineraries in case you have the time to take a two-week trip and want to see multiple parks along the way. I'll also go into greater detail at some of the most popular parks since you'll probably want to stay several nights and see everything the park has to offer.
In this first guide, I focus on all 16 of the National Parks in the Western United States.

This Guide is Divided into 4 Parts.
In Part -1, I discuss the followings of each park.
A brief description of each park, along with its location, size and what makes it unique
Visitor center information including hours of operation
Fees (if any)
What goods and services each park has to offer (if any)
If pets are allowed or not
Camping information including fees
Reservations and Permits (if required)
Web links for any reservation (for boats or plane, if available)
Wildlife you may get to see and enjoy
Weather forecast year-round
Best time to Visit
Tips
In Part -2, I discuss what to do and see if you took a day trip in any of these 16 parks.
In Part -3, I laid out two logical and well thought out 14-day park hopper plans, with each itinerary you will be able to visit multiple parks and enjoy various activities like hiking to sightseeing. For hikers, I laid out three different hiking plans ranging from easy to difficult. I also included a few much-needed hiking tables.
In the last Part, I take you inside for an in-depth look at 3 of the most popular parks (Yosemite, Olympic & Grand Canyon) the West has to offer. This is where I get into each and every point of interests each park has to offer that is worth seeing.
So, please feel free to use this guide to plan your first or next great outdoor adventure and have fun.