One Summer in Savannah: A Novel (Paperback)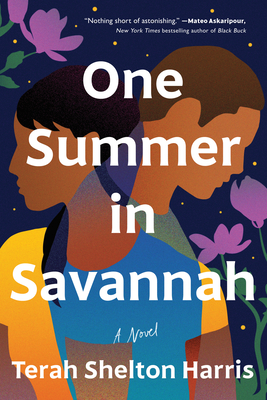 $16.99

Special Order- Usually Ships in 1-5 Days
Description
---
"Nothing short of astonishing. The best writers are brave writers, and Harris has proven herself among those ranks." —Mateo Askaripour, New York Times bestselling author of Black Buck
A compelling debut that glows with bittersweet heart and touching emotion, deeply interrogating questions of family, redemption, and unconditional love in the sweltering summer heat of Savannah, as two people discover what it means to truly forgive.
It's been eight years since Sara Lancaster left her home in Savannah, Georgia. Eight years since her daughter, Alana, came into this world, following a terrifying sexual assault that left deep emotional wounds Sara would do anything to forget. But when Sara's father falls ill, she's forced to return home and face the ghosts of her past.
While caring for her father and running his bookstore, Sara is desperate to protect her curious, outgoing, genius daughter from the Wylers, the family of the man who assaulted her. Sara thinks she can succeed—her attacker is in prison, his identical twin brother, Jacob, left town years ago, and their mother are all unaware Alana exists. But she soon learns that Jacob has also just returned to Savannah to piece together the fragments of his once-great family. And when their two worlds collide—with the type of force Sara explores in her poetry and Jacob in his astrophysics—they are drawn together in unexpected ways.
"An unforgettable portrayal of familial tragedy, bravery, and redemption." —Kim Michele Richardson, New York Times bestselling author of The Book Woman's Daughter
About the Author
---
TERAH SHELTON HARRIS is a collection development librarian based in Alabama and a freelance writer. She has been published in Women's Health, Natural Solutions, Every Day with Rachael Ray, Backpacker, Draft, and Women's Adventure.
Praise For…
---
AS RECOMMENDED BY Goodreads, The Skimm, Essence, The Root, and more!
"Astonishing." —
Christian Science Monitor
"Earnestly explores themes of forgiveness, compassion, and unconditional love." —
Goodreads
"It may be the most exceptional [book] I have ever read." —
The Wake Forest Review
"A natural pick for book clubs—there is plenty to discuss in this thought-provoking, moving story of forgiveness, unexpected connection, and the myriad ways people protect those they love." —
Booklist
"Terah Shelton Harris's daring debut is nothing short of astonishing. To write a novel that has the capacity to uplift you while it tears your heart to shreds is a balancing act few can achieve, but Harris does with ease and endless empathy. We are brought face-to-face with the most difficult questions—of family, forgiveness, and how to make a way forward—but if we can muster the courage of characters like Sara and Jacob, we will find answers that sustain us for years to come. The best writers are brave writers, and Harris has proven herself among those ranks." —
Mateo Askaripour, New York Times bestselling author of Black Buck
"An unforgettable portrayal of familial tragedy, bravery, and redemption. Harris delivers a powerful heartrending debut about what it means to forgive the unforgivable." —
Kim Michele Richardson, New York Times bestselling author of The Book Woman's Daughter  
"A poignant and nuanced exploration of forgiveness when stakes are high and outcomes uncertain. In this beautifully written debut, Harris grants us entry into the hearts of two wounded characters for whom running away from family secrets has offered no real escape. This layered story of love and courage reminds us that sometimes the way forward requires looking back." —
Kelly Mustian, author of The Girls in the Stilt House
"Steeped in poetry, place, and compassion, Terah Shelton Harris's moving debut novel
One Summer in Savannah
will turn readers' hearts inside out as her characters navigate the vagaries of forgiveness and the boundaries and boundlessness of love." —
Julie Carrick Dalton, author of The Last Beekeeper
"Terah Shelton Harris blew me away with
One Summer in Savannah.
The grace and ease of her storytelling is a thing to behold. I found myself rooting for Sara, Alana, and Jacob. This book, put simply, is a masterclass, a lyrical meditation on trauma, forgiveness, compassion, and love. Harris is definitely a writer to watch!" —
Catherine Adel West, author of The Two Lives of Sara
"
One Summer in Savannah
is a powerful and thought-provoking novel. Terah Shelton Harris beautifully explores courage, strength, and the power we can derive from all that surrounds us: in the words of a poem, in those we love, in ourselves. Sara's journey in moving past her torments, finding love, and finding peace for herself is equal parts inspiring and enchanting" —
Shauna Robinson, author of The Banned Bookshop of Maggie Banks
"Every once in a while, a book comes along that touches the reader at the very core.
One Summer in Savannah
is that book. Terah Shelton Harris's provocative debut is beautifully written, absorbing, and brimming with emotion and insight. A poignant, touching, and timely novel that asks the question: what does it mean to truly forgive? This is unequivocally a best book of 2023." —
Rochelle B. Weinstein, USA TODAY bestselling author of This is Not How It Ends
"A gorgeously written, tender examination of love, loss, and the heart-wracking journey towards forgiveness and self-discovery. Terah's elegant prose draws you into intricately woven lives and nuance of emotions she explores through unforgettable characters. A gentle reminder of the self-healing power of forgiveness and the courage it takes to push darkness away, while letting true love (and poetry) fully fill the cracks of our broken lives." —
Lola Akinmade Åkerström, international bestselling author of In Every Mirror She's Black