Kanji Practice Notebook-Sakura Flowers: Genkouyoushi Notebook/Paper/Workbook/ Book, Japanese Writing Practice Book & Notetaking of Kana and Kanji Char (Paperback)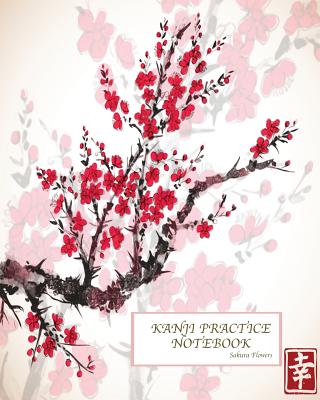 $6.99
Email or call for price.
Description
---
Repetition is a great way to learn the written language. This blank workbook will help your study and practice writing of kanji, hiragana and katakana.
INCLUDES: 1 Genkouyoushi Notebook/Kanji Practice Notebook. Cover is high gloss finish; inner pages are printed on high quality durable paper. Perfect bound to secure pages for continous practice.
DO AS THE JAPANESE DO Genkouyoushi in this book are in proper size & format. The same as they are used in Japan. You can also use this book either from left to right or from right to left. The back cover was designed with a blank subject box/title box so that you can use the book either way.
EASIER WRITING AND READING Each genko yoshi page contains 9 columns of .5 inch-wide squares, with the space nearer to the spine left blank, to avoid unstable strokes.
FUNCTIONAL SIZE: Dimension 8"x 10" is just about the size of an A4 paper so it can accommodate well any inserts you may have temporarily. Containing 110 pages to write on, the book provides enough space for comprehensive or sequential notes, while it is light enough to be carried along comfortably by anyone, making it so great for classroom studies, as well as quick reviews while travelling