Amelia Earhart: Pioneer of the Sky! (Show Me History!) (Hardcover)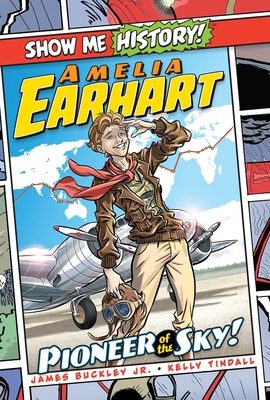 $12.99
Email or call for price.
Description
---
A fascinating and entertaining biography of Amelia Earhart, in graphic novel format.

When Amelia Earhart became the first woman to make a solo flight across the Atlantic Ocean in 1932, she immediately became an American icon and a subject of endless fascination for generations to come. In Amelia Earhart: Pioneer of the Sky!, the story of the bold and daring aviator's life is presented in graphic novel format, with full-color illustrations and historically accurate details. From her hardscrabble childhood to her final flight—and mysterious disappearance—Earhart's journey will entertain, captivate, and inspire readers of all ages.
About the Author
---
James Buckley Jr. is a prolific author of nonfiction for young readers, with more than 150 books to his credit (and still typing!). He is the author of more than a dozen titles in The New York Times' best-selling "Who Was...?" biography series, including the Wright Brothers, Milton Hershey, Betsy Ross, Jules Verne, and Blackbeard. Buckley has written more than thirty DK Readers on a wide variety of topics, plus two recent long-form bios of Adolf Hitler and Bonnie and Clyde for Aladdin Books. For Spring 2019, he created the first book in a new series for Aladdin—a bio of astronaut Michael Collins. Buckley is the co-author of Time Inc./Liberty Street's "X-Why-Z" series and wrote and produced the Animal Planet Animal Atlas for Liberty Street. A former editor at Sports Illustrated and the National Football League, he lives in Santa Barbara, California, where he runs a successful book producing company.

Kelly Tindall, the award-winning writer/artist of The Adventurers: Love You Very So Much and the Strangebeard series, makes one heck of a good sandwich. He lives in Edmonton, Canada, with his wife and two daughters. For more of his work, follow him on Instagram (@mrkellytindall).

John Roshell is a co-founder of Comicraft, the lettering and design studio best known for pioneering the process of digitally lettering comic books. He has lettered thousands of comics for Marvel, DC, Dark Horse, Blizzard, and more; created hundreds of typefaces widely used in comics and video games; and designed loads of logos for franchises like the Avengers, Daredevil, Black Panther, and Angry Birds. He lives in Santa Barbara with his wife Starshine, two boys, and a somewhat ugly dog.
Praise For…
---
SHOW ME HISTORY SERIES. PORTABLE. GR. 3–7. (4 TITLES)
Abraham Lincoln: Defender of the Union! By Mark Shulman. Illus. by Tom Martin. 2019. 96p. $12.99 (9781684125449). 973.7092.
Alexander Hamilton: The Fighting Founding Father! By Mark Shulman. Illus. by Kelly Tindall and John Roshell. 2019. 96p. $12.99 (9781684125432). 973.4092.
Amelia Earhart: Pioneer of the Sky! By James Buckley Jr. Illus. by Kelly Tindall and John Roshell. 2019. 96p. $12.99 (9781684125456). 629.13092.
Martin Luther King Jr: Voice for Equality! By James Buckley Jr. Illus. by YouNeek Studios and John Roshell. 2019. 96p. $12.99 (9781684125463). 323.092.
     Bunking the notion that history is dull, these titles in the Show Me History! series convey the lives of notable historical figures through colorful and spirited cartoons. The young narrators are Libby, an African American "Lady Liberty," and Sam, a white, patriotically attired teen who will one day be known as "Uncle Sam." The books' conversational tone, with occasional surprises and humorous exchanges, describe the high and low points of each figure and his or her impact on American history. In addition, color-coded speech balloons and stylized fonts reflect actual quotes and writings. Abraham Lincoln recounts the numerous setbacks and rivalries Lincoln experienced on the road to the presidency and during the Civil War. Alexander Hamilton relates how Hamilton's childhood experiences influenced his service under General George Washington during the American Revolution and how he helped found a new nation, creating a national bank, for example. Amelia Earhart documents the aviator's record-setting firsts, her role as a feminist, and how her disappearance continues to turn out new facts and conspiracy theories. Martin Luther King Jr. traces how this civil rights activist fought for racial equality through nonviolent messages and protests. Each biography concludes with a round-up of related individuals, a time line, a glossary, and a list of resources. This series makes history approachable and engaging, especially for reluctant readers.
— Angela Leeper

Libby (Lady Liberty) and Sam (Uncle Sam) act as historical guides and comic relief in this graphic novel biography of Amelia Earhart. From building a backyard roller coaster as a kid to working as a nurse's aide during WWI and embarking on early flying adventures, Earhart seemed destined to become a record-breaking aviator. Buckley blends historical context and intriguing biographical details (Earhart once drove across the country with her mother), creating an appealing introduction to this larger-than-life inspiration. Tindal's bold-lined artwork moves the story at a brisk pace with effective shifts in panel sizes and perspectives. Several pages of useful resources close this inviting series entry. Also available: Alexander Hamilton: The Fighting Founding Father!, Martin Luther King Jr.: Voice for Equality!, and Abraham Lincoln: Defender of the Union! Ages 8–12. (Mar.)
— Publishers Weekly