Self-Love Workbook for Women: Release Self-Doubt, Build Self-Compassion, and Embrace Who You Are (Paperback)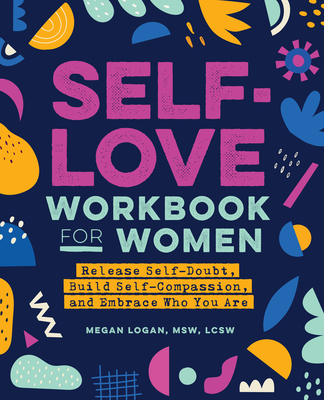 $15.99
Email or call for price.
Description
---
Embrace who you are with this guided self-love workbook for women
Discover how much there is to love about yourself using this practical workbook for women of all ages. You'll embark on your journey of self-discovery by learning what self-love is and then immersing yourself in exercises to help you build your self-esteem and improve your relationships.
What sets this self-care journal and workbook apart from other self-love workbooks for women:
Proven techniques—Fall in love with yourself using a variety of compassionate exercises rooted in mindfulness and positive psychology.
Inspiring prompts and motivating activities—Explore all that you are with quizzes and journaling exercises that will help you tap into your emotions and let go of limiting beliefs. Includes writing space for reflection and introspection.
Empowering affirmations—Boost your positivity and nurture yourself using the uplifting affirmations interspersed throughout the book.
Create a life filled with purpose and greater self-love using the
Self-Love Workbook for Women
.
About the Author
---
MEGAN LOGAN has more than 20 years of counseling experience in a variety of mental health settings, including domestic violence and sexual assault centers, an eating disorders program, and a local hospice program. For the past 10 years, she has enjoyed private practice, specializing in issues related to trauma, abuse, eating disorders, grief, and loss.
Praise For…
---
"Are you a woman, a counselor, or a group facilitator interested in growing self-love? If you answered yes, this unique workbook can show you the way. The Self-Love Workbook for Women not only addresses why self-love is so important, it guides you through an easy to read, step-by-step process, including helpful exercises and assessment tools. Megan Logan, an early adopter in the self-love movement, draws from many of the field's experts as well as from her own in-depth knowledge. I look forward to both gifting this book and using it in my private practice with individuals and groups." —Connie Cooper, Licensed Clinical Social Worker

"This workbook is timely for those struggling with eating and body image disorders. Megan nails it first by defining self-love, next outlining the importance of self-love, then delivering the keys to loving you more. Suggestions are given for meditations, road maps with bus stops along the way, and concrete steps to affirm you are enough." —Marilyn Dahl, RDN, MBA, CEDRD, CYT

"Do yourself a favor and dive into this book. It tackles all of the hurdles women face. It's more like all of self-help books combined, with a therapist thrown in for free. After you finish it, you can blame me for wanting to get copies for your mom, daughters, sisters, and at least 5 of your girlfriends!" —Jessica Bradstreet, Licensed Clinical Social Worker

"This book was such an extraordinarily eye-opening read, I felt like Megan was writing this book directly for me. With the focus on women and especially our roles in our home, our kids, and work—like we are on a hamster wheel and performing a juggling act, that never stops, this book made me realize how much I need to slow down and take care of me. I can't help other people if I'm not taken care of. She really makes you think about some deep questions that I had never asked myself before—I loved the journaling and prompted diary-like approach of the book—it made it very easy to put my thoughts on paper. I would recommend this book to any woman who is trying to dig deeper and find peace in this crazy world of ours. Megan's 20+ years of experience shows in this workbook." —Traci Bragg, MD