Moon Baseball Road Trips: The Complete Guide to All the Ballparks, with Beer, Bites, and Sights Nearby (Travel Guide) (Paperback)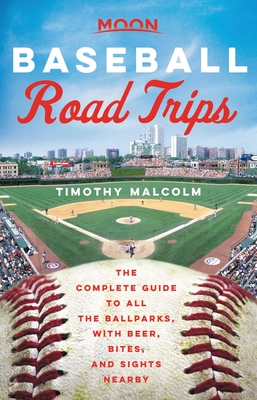 $27.99

Special Order- Usually Ships in 1-5 Days
Description
---
Sunshine, hot dogs, friends, and the excitement of the game: Baseball is called America's pastime for a reason. Experience the best of the MLB cities and stadiums with Moon Baseball Road Trips.
Flexible Itineraries: Explore the 30 major league cities with a variety of road trip options, including a Boston to DC route, a loop through the Midwest, a dip into Toronto, a cruise along the West Coast, and more
Visit all the Ballparks: From the ivy walls of Wrigley to Fenway's Green Monster and Dodger Stadium's gorgeous mountain views, experience every ballpark in the league and dive into local fan culture
Catch a Game: Find valuable tips for snagging tickets and get the inside scoop on the best places to park or catch public transit, where to eat and drink nearby, and events like music festivals, the Hall of Fame Weekend, Fourth of July celebrations, and more
Explore the Major League Cities: Get to know the MLB hometowns with full chapters on each city. Pay respects to Babe Ruth in Baltimore, visit Cleveland's Rock & Roll Hall of Fame, and stroll through the Boston Common. Find the best local craft breweries, and chow down on chili dogs, barbecue, fresh crab, and more foodie specialties. Hold back a tear at the Field of Dreams, grab a seat for a Spring Training game, or rent a kayak on the bay and try to catch a fly ball from San Francisco's Oracle Park
Expertise and Know-How: Former baseball writer and avid Phillies fan Timothy Malcolm shares his advice for planning the perfect baseball road trip
Maps and Driving Tools: Easy-to-use maps, along with mileages, driving times, and directions, with full-color photos throughout
Helpful resources on COVID-19
Planning Tips: Where to stay, when and where to get gas, how to avoid traffic, and tips for driving in different road and weather conditions, plus suggestions for seniors, families with kids, and more 
With Moon Baseball Road Trips' practical tips, local expertise, and flexible itineraries, you're ready to step up to the plate and hit the road.
About Moon Travel Guides: Moon was founded in 1973 to empower independent, active, and conscious travel. We prioritize local businesses, outdoor recreation, and traveling strategically and sustainably. Moon Travel Guides are written by local, expert authors with great stories to tell—and they can't wait to share their favorite places with you.
For more inspiration, follow @moonguides on social media.
About the Author
---
Born in inner-city Philadelphia, Timothy Malcolm is a lifelong Phillies fan who knows the ins and outs of Major League Baseball. He's served as a senior writer and editor at Phillies Nation, written stories for the Hardball Times, and has been featured on Mets Blog and Yahoo! Big League Stew. He's also hosted two baseball podcasts including the Phillies Nation Podcast.

In 2014, he embarked on a baseball road trip of his own, driving from Philadelphia to Denver and catching games in ten different major league ballparks. He stood on the grass at Wrigley Field, interviewed then-Pirates second baseman Neil Walker in the clubhouse, ate ballpark food, and talked to dozens of fans about their passion for the sport.

These days, Timothy lives in Houston, and when he's not eating his way through Space City, he's enjoying a cold beer, watching baseball, and looking for every opportunity to get out and stretch his legs. You might have also read his work in Backpacker, October, Paste, Chronogram, Hudson Valley Magazine, and Orange Magazine. Timothy is also the author of Moon Drive & Hike Appalachian Trail.

Praise For…
---
"[This] book stresses an informative approach and shies from piling on best-of rankings, which is refreshing...guides like this are a help for those trying to make as much use of time as possible."—Marc Bona, cleveland.com