Spirits of San Francisco: Voyages through the Unknown City (Paperback)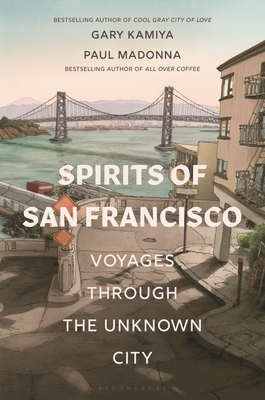 $18.00

Special Order- Usually Ships in 1-5 Days
Description
---
The bestselling book from two prizewinning, critically acclaimed contemporary chroniclers of San Francisco-a rich, illustrated, idiosyncratic portrait of this great city-now in paperback.

In Spirits of San Francisco, #1 bestselling Cool Gray City of Love author Gary Kamiya joins forces with celebrated, bestselling artist Paul Madonna to take a fresh look at this one-of-a-kind city. Marrying image and text in a way no book about this city has done before, Kamiya's illuminating narratives accompany Madonna's masterful pen-and-ink drawings, breathing life into San Francisco sites both iconic and obscure.

Paul Madonna's atmospheric images will awe: his wide-angle drawings offer a new perspective on the "crookedest street in the world" and vistas across the city. And Kamiya's engaging prose, accompanying each image, offers striking vignettes of this incredible city: witness his story of "Dumpville," the bizarre community that sprang up in the 19th century on top of a massive garbage dump.

Handsome and irresistible-much like the city it chronicles-Spirits of San Francisco is both a visual feast and a detailed, personal, loving, informed portrait of a beloved city.
About the Author
---
Gary Kamiya is the author of the #1 San Francisco bestseller Cool Gray City of Love: 49 Views of San Francisco, which won the Northern California Book Award for Creative Nonfiction and is widely considered one of the best books ever written about San Francisco. He writes a very popular history column for the San Francisco Chronicle. A co-founder of Salon.com and the former executive editor of San Francisco magazine, Kamiya has been a fixture on the Bay Area literary scene for more than 30 years. He lives in San Francisco.

Paul Madonna is an award-winning artist and author. His popular series All Over Coffee ran in the San Francisco Chronicle for twelve years and has been collected into two sui generis bestsellers, All Over Coffee and Everything is its own reward. Paul is the creator of the Emit Hopper Mystery Series, and his unique brand of combining images and stories has been heralded as "an all new art form," celebrated internationally in galleries and museums as well as in print.
Praise For…
---
"If the present day is in fact one of Dante's circles of hell, and we're experiencing it in San Francisco, I can hardly think of better Virgils than Kamiya and Madonna to guide us." —San Francisco Chronicle

"Fascinating ... S.F. newcomers will learn something new on every page." —SFGATE

"Eloquent... [appealing] to those who may have left their hearts in San Fran, as well as armchair (and aspiring) travelers eager to learn more." —Publishers Weekly

"This captivating book offers deep dives into the history, quirky characters, and unique topography of 16 distinctive locations throughout the City." —7x7

"Kamiya delves with affection and an informed eye into the pasts of 16 spots in the city where he has spent a lifetime. Evocative, detailed drawings by Paul Madonna, which are as likely to include a chain link fence and the view of an overpass as more romantic subject matter, set the scene for the places as they exist in the present . . . Armchair tourists as well as those climbing up and down the city's many hills should relish the book's rich insights." —Booklist

"An easy-to-browse book of things to look for when you're looking for somewhere different to visit." —Bookworm Sez

"A kaleidoscopic homage both personal and historical . . . Kamiya's symphony of San Francisco is a grand pleasure." —New York Times Book Review on COOL GRAY CITY OF LOVE

"Kamiya's relish is contagious . . . [San Francisco] has its defining lyrical panorama for a generation or longer." —San Francisco Chronicle on COOL GRAY CITY OF LOVE

"The book is fantastic. Of time and tenderness. Beautiful drawings. Beautiful text. Ethereal and serious at once. The book is its own reward." —Maira Kalman on EVERYTHING IS ITS OWN REWARD

"Mesmerizing . . . When his international images are paired with his sparse, poetic words--the effect is haunting." —Oprah.com on EVERYTHING IS ITS OWN REWARD