Reclaiming Ugly!: Uplift, Glorify, and Love Yourself--And Create a World Where Others Can as Well (Paperback)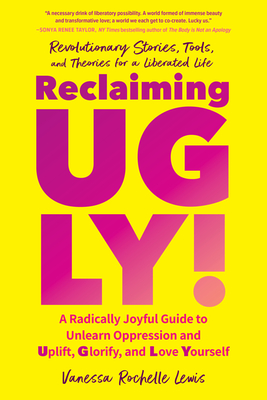 $16.95
Email or call for price.
Description
---
Flip the script on how you think about UGLY--what it means, what it is, and how to reclaim it to Uplift, Glorify, and Love Yourself in an uglified world. Blending joyful self-help magic with incisive social analysis and personal narrative, Vanessa Rochelle Lewis empowers readers to heal, connect, and revolt against uglification. Uglification is ugly weaponized: a tool, ideology, and type of oppression that designates some bodies as more or less worthy of love, respect, access, and dignity. It defines who's accepted in what spaces, which identities are marginalized, and how we all move through the world--and is part and parcel of systems like white supremacy, ableism, sizeism, sexism, and queer- and transphobia. Here, Lewis takes on uglification, showing us how reclaiming UGLY is a subversive act that roars an unapologetic yes to joy, healing, and community-building in a world that's engineered to hold us back. Lewis asks us to go beyond analysis, inviting us to boldly perform UGLY as an act of rebellion, liberation, and radical self-love. Through self-help exercises, reflective meditations, and lesson plans, Lewis moves us closer to a collective liberation that takes back what society tells us is ugly and taboo...and teaches us to deconstruct what we've told ourselves is ugly and taboo. In sharing her analysis, personal journey, and activity toolkit, Lewis offers a warm embrace and compassionately guides us toward lives of radical self-acceptance, joyful community-centered healing, and unfiltered self-love.
About the Author
---
VANESSA ROCHELLE LEWIS is a Queer, Fat, Black, Femme performer, facilitator, educator, writer, activist, healer, joyful weirdo, and Faerie Princess Mermaid Gangsta for The Revolution. Lewis has danced across many professional and creative stages. She has been a writer and co-managing editor for acclaimed feminist magazines, Everyday Feminism and Black Girl Dangerous; a community college instructor at multiple Bay Area schools and radical transformative justice programs; a fundraiser and events coordinator for the Black Healing October, the Queer Women of Color Media Arts Project; and more. Lewis is a shameless flirt who loves to swoon over life and dive deep into intimacy. Silliness and sensuality are her survival strategies. She loves the people that society forgot to love the most.Lewis founded the organization Reclaim UGLY: Uplift Glorify Love Yourself--And Create A World Where Everyone Else Can As Well! Her vision is to co-create a world where everyone knows that they are a safe, welcomed, and valued member of their communities; has the support to dream authentically and exists in their truths; and accepts that there is no face, no body, and no person who is ugly or unworthy of love and acceptance.