How We Got to Now: Six Innovations That Made the Modern World (Hardcover)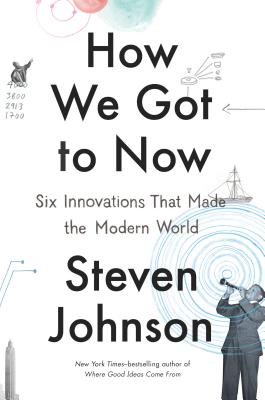 $30.00
Email or call for price.
Description
---
From the New York Times–bestselling author of Where Good Ideas Come From and Extra Life, a new look at the power and legacy of great ideas.

In this illustrated history, Steven Johnson explores the history of innovation over centuries, tracing facets of modern life (refrigeration, clocks, and eyeglass lenses, to name a few) from their creation by hobbyists, amateurs, and entrepreneurs to their unintended historical consequences. Filled with surprising stories of accidental genius and brilliant mistakes—from the French publisher who invented the phonograph before Edison but forgot to include playback, to the Hollywood movie star who helped invent the technology behind Wi-Fi and Bluetooth—How We Got to Now investigates the secret history behind the everyday objects of contemporary life.
 
In his trademark style, Johnson examines unexpected connections between seemingly unrelated fields: how the invention of air-conditioning enabled the largest migration of human beings in the history of the species—to cities such as Dubai or Phoenix, which would otherwise be virtually uninhabitable; how pendulum clocks helped trigger the industrial revolution; and how clean water made it possible to manufacture computer chips. Accompanied by a major six-part television series on PBS, How We Got to Now is the story of collaborative networks building the modern world, written in the provocative, informative, and engaging style that has earned Johnson fans around the globe.
About the Author
---
Steven Johnson is the bestselling author of thirteen books, including Where Good Ideas Come From, The Ghost Map, and Extra Life. He's the host and cocreator of the Emmy-winning PBS/BBC series How We Got to Now, the host of the podcast The TED Interview, and the author of the newsletter Adjacent Possible. He lives in Brooklyn, New York, and Marin County, California, with his wife and three sons.
Praise For…
---
Praise for Steven Johnson
"A great science writer." — Bill Clinton, speaking at the Health Matters conference
"Mr. Johnson, who knows a thing or two about the history of science, is a first-rate storyteller." — The New York Times

"You're apt to find yourself exhilarated…Johnson is not composing an etiology of particular inventions, but doing something broader and more imaginative…I particularly like the cultural observations Johnson draws along the way…[he] has a deft and persuasive touch…[a] graceful and compelling book." — The New York Times Book Review
"Johnson is a polymath. . . .  [It's] exhilarating to follow his unpredictable trains of thought. To explain why some ideas upend the world, he draws upon many disciplines: chemistry, social history, geography, even ecosystem science." — Los Angeles Times

"Steven Johnson is a maven of the history of ideas... How We Got to Now is readable, entertaining, and a challenge to any jaded sensibility that has become inured to the everyday miracles all around us." — The Guardian

"[Johnson's] point is simple, important and well-timed: During periods of rapid innovation, there is always tumult as citizens try to make sense of it....Johnson is an engaging writer, and he takes very complicated and disparate subjects and makes their evolution understandable." — The Washington Post
"Through a series of elegant books about the history of technological innovation, Steven Johnson has become one of the most persuasive advocates for the role of collaboration in innovation….Mr. Johnson's erudition can be quite gobsmacking." – The Wall Street Journal
"An unbelievable book…it's an innovative way to talk about history." — Jon Stewart

"What makes this book such a mind-expanding read is Johnson's ability to appreciate human advancement as a vast network of influence, rather than a simple chain of one invention leading to another, and result is nothing less than a celebration of the human mind." — The Daily Beast

"Fascinating…it's an amazing book!" — CBS This Morning
"A full three cheers for Steven Johnson. He is, by no means, the only writer we currently have in our era of technological revolution who devotes himself to innovation, invention and creativity but he is, far and away, the most readable." — The Buffalo News 

"The reader of How We Got to Now cannot fail to be impressed by human ingenuity, including Johnson's, in determining these often labyrinthine but staggeringly powerful developments of one thing to the next." — San Francisco Chronicle

"A rapid but interesting tour of the history behind many of the comforts and technologies that comprise our world." — Christian Science Monitor

"How We Got to Now... offers a fascinating glimpse at how a handful of basic inventions--such as the measurement of time, reliable methods of sanitation, the benefits of competent refrigeration, glassmaking and the faithful reproduction of sound--have evolved, often in surprising ways." — Shelf Awareness 

"[Johnson] writes about science and technology elegantly and accessibly, he evinces an infectious delight in his subject matter...Each chapter is full of strange and fascinating connections." — Barnes and Noble Review

"From the sanitation engineering that literally raised nineteenth-century Chicago to the 23 men who partially invented the light bulb before Thomas Edison, [How We Got to Now] is a many-layered delight."— Nature Review

"A highly readable and fascinating account of science, invention, accident and genius that gave us the world we live in today." —Minneapolis Star Tribune

 
Coverage from NPR