The Vegan Scoop: 150 Recipes for Dairy-Free Ice Cream that Tastes Better Than the "Real" Thing (Paperback)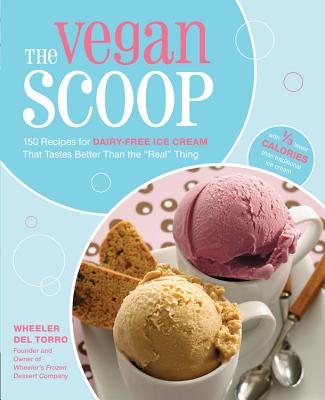 $19.99
Email or call for price.
Description
---
The Vegan Scoop brings the pleasures of the ice cream parlor into your home with 150 recipes for delicious frozen desserts that are so rich and creamy, they're better than the "real" thing—and contain one-third the calories!

Developed by vegan hipster Wheeler del Torro of Wheeler's Frozen Desserts, these "faux" creams feature 100 percent vegan-certified ingredients, making them suitable for both vegans and those with lactose intolerance and other dairy aversions. And with each serving containing approximately 80 calories—nearly 100 calories fewer than a serving of traditional ice cream—you can indulge with peace of mind (and keep your trim waistline!).  

Chapters are devoted to innovative flavor "inspirations," and cover everything from Caribbean & Island Flavors to Healthy Flavors and Aphrodisiacal Flavors. You'll also find two chapters full of recipes for toppings, sauces, sides, and other dessert accompaniments.

Recipes include:
Peanut Butter Banana
Black Sesame
Chocolate Marshmallow
Almond Cookie
Orange Passion Fruit
Granola Crunch
Pecan Apple Danish
Espresso Bean
Vanilla Graham Cracker
and hundreds more!
About the Author
---
Wheeler del Torro is the founder and owner of Wheeler\u2019s Frozen Desserts, a microcreamery based in Boston that produces vegan ice cream using soy, coconut, rice and almond milks. Del Torro, who was born in Jamaica and moved to the U.S. as a teen, began the company in 2001, initially creating custom flavors for restaurants, companies, and high-end clientele. He opened his first store this year in Boston, and plans on opening a sister shop in L.A. soon. You can find him at www.icecreamproject.com.
Praise For…
---
 "As luscious as the recipes themselves, this cookbook puts vegan ice cream on the map and leaves its animal-based counterpart in the dust. Vibrant, fun, and full of factoids, The Vegan Scoop is pure bliss."
—Colleen Patrick-Goudreau, author of the award-winning
The Joy of Vegan Baking and The Vegan Table
"The Vegan Scoop will forever change the way you think about ice cream. In Wheeler del Torro's hands, vegan ice cream is not only far more nutritious than traditional ice cream, but more delicious and outrageously varied. This book is an absolute must-have for ice cream aficionados everywhere."
—Dr. Will Tuttle, Ph.D., author of The World Peace Diet
"These recipes are totally out of control! Veganism has never been so fun, easy, and innovative."
—Rory Freedman, author of #1
New York Times
bestseller
Skinny Bitch