100 Deadly Skills: A Navy SEAL's Guide to Crushing Your Enemy, Fighting for Your Life, and Embracing Your Inner Badass (Paperback)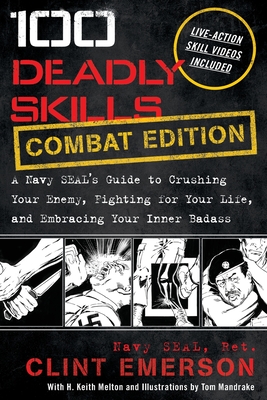 $24.99

Special Order- Usually Ships in 1-5 Days
Description
---
The third installment in the bestselling series-now featuring live-action video content.
"The first volume in the 100 Deadly Skills series delivered clandestine hacks to help you escape and evade threats at home and abroad. The second book, Survival Edition, provided a blueprint for surviving fatal disasters. Now, with the Combat Edition, I've created the most comprehensive on-the-ground combat manual ever assembled-helping good people defeat evil, fight for their lives, and survive another day."-Clint Emerson
Created by a retired Navy SEAL, this illustrated manual presents one hundred skills from some of the deadliest characters on Earth. Special ops. Outlaw bikers. Martial artists. Professional fighters. Drawn from an elite cadre of experts, each technique is broken down step by step to radically improve your chances of coming out on top-whether you're facing an active shooter or going toe to toe with a belligerent prick. Embedded videos let you visualize the skills and practice them in real time.
These one hundred deadly skills include:
- Weaponizing your non-violent posture
- Delivering damaging body strikes
- Accurately throwing a knife
- Quick drawing and shooting a handgun
- Tactically deceiving your enemy
- Surviving a multi-threat ambush
- Understanding non-lethal and lethal options
Clint Emerson, retired Navy SEAL, spent twenty years conducting special ops all over the world while attached to SEAL Team Three, the National Security Agency (NSA), and a Special Mission Unit.
Tom Mandrake has created and illustrated books, comics and graphic novels for over 40 years. Some of the titles he has worked on include Batman, The Spectre, The Martian Manhunter, The Punisher, The New Mutants, The X-Files, Creeps, To Hell You Ride and Kros: Hallowed Ground.
H. Keith Melton, a graduate of the U.S. Naval Academy and author of many spy books, is an intelligence historian and a specialist in clandestine technology, espionage, and tradecraft.