Advanced Time Telling - Introducing Minutes - Practice Worksheets Workbook With Answers: Daily Practice Guide for Elementary Students and Homeschooler (Paperback)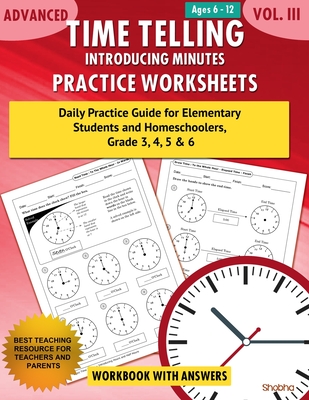 $8.98

Special Order- Usually Ships in 1-5 Days
Description
---
Gift your child endlessly rewarding skills they can cherish lifelong.
The workbook contains various exercises for time telling, time conversion, calendar, time zones, class schedule, train schedule and timeline
This book has hundreds of problems with increasing level of difficulty for daily practice by students. It is recommended for students to attempt at least one page daily for consistent practice. Book starts with time telling techniques to help students grasp basic concepts and get started. Book can be used to track practice time for each set. Date and time can be recorded at top of each page. Answer to each problem is given at the end of the book.
With the advent of electronic gadgets, we increasingly see time displayed everywhere in digital format. But learning to tell time using an analog clock is an essential skill for kids that can help build their cognitive abilities and sensory motor skills. Being able to tell time requires basic calculations and counting skills that not only helps kids with math but also helps them being organized and being able to track progress on their day to day activities.
This workbook is written keeping in mind that teaching kids to be able to read analog clocks and tell time is a challenging task and with regular and consistent practice they would gain a skill that would be endlessly rewarding.
Being able to read clocks can help kids make informed decisions whether they are late or if they have plenty of time. It's widely observed that kids who can read clocks can get ready for school in time. It also tells them when it's time for lunch and alert them when their favorite TV show is about to come on. Learning how to tell time can also be great fun when you use games, activities, and exercises to practice reading, writing, and setting clock times. Once you've learned how to read a clock, you can put your skills to many good uses. Above all, being able to read clocks and tell time makes kids feel more confident and smart.