Reclaiming Your Community: You Don't Have to Move out of Your Neighborhood to Live in a Better One (Paperback)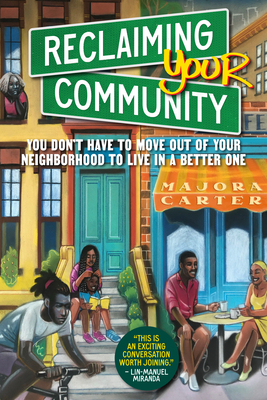 $19.95

Special Order- Usually Ships in 1-5 Days
Description
---
Majora Carter shows how brain drain cripples low-status communities and maps out a development strategy focused on talent retention to help them break out of economic stagnation.

"My musical, In the Heights, explores issues of community, gentrification, identity and home, and the question: Are happy endings only ones that involve getting out of your neighborhood to achieve your dreams? In her refreshing new book, Majora Carter writes about these issues with great insight and clarity, asking us to re-examine our notions of what community development is and how we invest in the futures of our hometowns. This is an exciting conversation worth joining."
—Lin-Manuel Miranda

How can we solve the problem of persistent poverty in low-status communities? Majora Carter argues that these areas need a talent-retention strategy, just like the ones companies have. Retaining homegrown talent is a critical part of creating a strong local economy that can resist gentrification. But too many people born in low-status communities measure their success by how far away from them they can get.

Carter, who could have been one of them, returned to the South Bronx and devised a development strategy rooted in the conviction that these communities have the resources within themselves to succeed. She advocates measures such as



Building mixed-income instead of exclusively low-income housing to create a diverse and robust economic ecosystem
Showing homeowners how to maximize the long-term value of their property so they won't succumb to quick-cash offers from speculators
Keeping people and dollars in the community by developing vibrant "third spaces"—restaurants, bookstores, and places like Carter's own Boogie Down Grind Cafe

This is a profoundly personal book. Carter writes about her brother's murder, how turning a local dumping ground into an award-winning park opened her eyes to the hidden potential in her community, her struggles as a woman of color confronting the "male and pale" real estate and nonprofit establishments, and much more. It is a powerful rethinking of poverty, economic development, and the meaning of success.
About the Author
---
Majora Carter is senior program director at Groundswell, a nonprofit that builds community power through equitable clean energy initiatives, as well as an urban revitalization strategy consultant, real estate developer, MacArthur Fellow, and Peabody Award–winning broadcaster. Carter founded and led the nonprofit environmental justice solutions corporation Sustainable South Bronx from 2001 onward before entering the private sector in 2008 with the Majora Carter Group. In 2017, she launched the Boogie Down Grind Cafe, the first commercial third space in the Hunts Point section of the South Bronx since the mid-1980s.

Praise For…
---
"In postpandemic America, we have the opportunity to reorder our society with a view to achieving our shared ideals—liberty and justice for all. The inequalities along racial and economic lines that COVID-19 revealed will only increase under the pressure of climate impacts that propel the wealthy away from the coasts and into more urbanized areas. Majora Carter's book could hardly be more timely in helping show us a more civilized way forward."
—Audrey Peterman, environmental advocate
 
"My musical, In the Heights, explores issues of community, gentrification, identity, and home—not to mention this question: are happy endings only ones that involve getting out of your neighborhood to achieve your dreams? In her refreshing new book, Majora Carter writes about these issues with great insight and clarity, asking us to reexamine our notions of what community development is and how we invest in the futures of our hometowns. This is an exciting conversation worth joining."
—Lin-Manuel Miranda
 
"This is an important personal story of a South Bronx activist whose good ideas for change are discredited because she is a black female who knows better than a lot of 'experts' but doesn't have the proper credentials. Her vision for a 'self-gentrified' South Bronx is not unlike the old Italian and Jewish communities but conflicts with the political power structure that only wants to keep the neighborhood poor and dependent."
—Roberta Brandes Gratz, author of The Living Cityand The Battle for Gotham
 
"Majora Carter is a public intellectual, a spiritual warrior, and a role model for so many that seek to make a difference. Sometimes, it takes a committed doer to help the rest of us realize what's possible."
—Seth Godin, author of The Practice
 
"Majora makes it easy to follow her light by being open about her mistakes and her successes. She models how to balance self-interest and community care in ways that feed each other with joy and love."
—Rev. Dr. Jacqui Lewis