Lost in Trans Nation: A Child Psychiatrist's Guide Out of the Madness (Hardcover)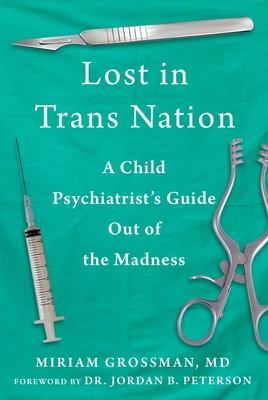 $32.50

Special Order- Usually Ships in 1-5 Days
Description
---
Throughout our country, atrocities are taking place in doctor's offices and hospital operating rooms. Physically healthy children and adolescents are being permanently disfigured and sometimes sterilized. Those youth say they're transgender, and we—their parents, teachers, therapists, and doctors—are supposed to agree with their self-diagnosis and take a back seat as they make the most consequential decision of their lives: to alter their bodies in order to, we are told, "align" them with their minds.
 
Medical, educational, and government authorities advise us to support the "gender journeys" of still developing kids, including medical interventions with poor evidence of long-term improvement.
 
This would not be acceptable in any other field of medicine. Indeed, the treatments our medical authorities and Washington call "crucial" and "life-saving" have been banned in progressive Sweden, Finland, and Britain.
 
Dr. Miriam Grossman is a child and adolescent psychiatrist whose practice consists of trans-identified youth and their families. In Lost in Trans Nation, she implores parents to reject the advice of gender experts and politicians and trust their guts—their parental instincts—in the face of an onslaught of ideologically driven misinformation that steers them and their children toward risky decisions they may end up mourning for the rest of their lives.
 
The beliefs that male and female are human inventions; that the sex of a newborn is arbitrarily "assigned"; and that as a result the child requires "affirmation" through medical interventions—these ideas are divorced from reality and therefore hazardous, especially to children. The core belief—that biology can and should be denied—is a repudiation of reality and a mockery of what hard science teaches about being male and female.
 
Dr. Grossman believes that parents know their child best; they especially know if they have a son or daughter. But currently in our country when it comes to gender identity, everyone knows better than mom and dad. Schools enable students to live double lives—Patrick at home, Patti at school. Activists tell kids their loving homes are "unsafe" when parents voice doubts about the child's new identity. For refusing to see their son as their daughter, parents might be reported to protective services, a development that can lead to a family's destruction.
 
Lost in Trans Nation arms parents with the ammunition to avoid, or, if necessary, fight what many families describe as the most difficult challenge of their lives. Parents will learn what to say and how—at home, at school, and if necessary, to police when they appear at the door.
 
"Don't be blindsided like so many parents I know," warns Grossman, "be proactive and get educated. Feel prepared and confident to discuss trans, nonbinary, or whatever your child brings to the dinner table." Whether it's the "trans is as common as red hair" claim, or the "I'm not your son, I'm your daughter" proclamation, or the "do you prefer a live son or a dead daughter' threat, says Grossman, no family is immune, and every parent must be prepared.
 
No child is born in the wrong body, Dr. Grossman reassures us, their bodies are just fine; it's their emotional lives that need healing. Whether you're facing a gender identity battle in your home right now, or want to prevent one, you need this book to guide you and your loved ones out of the madness.
 
About the Author
---
Miriam Grossman, MD is board certified in psychiatry and in the subspecialty of child and adolescent psychiatry. The author of five books, including Unprotected and You're Teaching My Child WHAT?, Dr. Grossman's work exposing the origin and hazards of the sexuality and gender industry has been translated into eleven languages. She has testified in Congress and lectured at the British House of Lords and the United Nations. She is featured in Daily Wire's What Is A Woman?, Fox Nation's The Miseducation of America, and many other documentaries. Her expert psychiatric opinion is sought for witness testimony and court reports. Visit her at www.MiriamGrossmanMD.com

Dr. Jordan B. Peterson is an author, psychologist, online educator, and Professor Emeritus at the University of Toronto. For twenty years, he taught some of the most highly regarded courses at Harvard and the University of Toronto, while publishing more than a hundred well-cited scientific papers with his students and coauthors. His books and lectures have transformed the modern understanding of personality and revolutionized the psychology of religion.
 
Praise For…
---
"Dr. Miriam Grossman lays bare the criminal misbehavior of the medical professionals and counsellors perpetrating the 'gender-affirming care travesty.' In doing so, she brings solace to those terrified that the children they love will fall prey to the demented excesses of the latest and worst of the contemporary psychological epidemics. In a time characterized by a shameful dearth of courage among medical professionals (and their counterparts in the field of psychology) Miriam Grossman has the courage to say what needs to be said."
— Dr. Jordan B. Peterson, author, psychologist, online educator, and professor emeritus at the University of Toronto
 
"Dr. Miriam Grossman is a rare truthteller. This book is a necessary guide for everyone, especially parents, battling gender ideology today."
—Debra Soh, PhD, author of The End of Gender, featured in the Daily Wire's What Is a Woman?
 
"Lost in Trans Nation is the compass and map today's parents need to navigate the treacherous and inescapable gender-bending waters that engulf our youth from preschool forward. Written in her usual engaging and direct style, Dr. Miriam Grossman has crafted an indispensable tool to prevent and heal transgender indoctrination in children and young adults. Parents, grandparents, educators, health professionals, attorneys, and policymakers should all give this book a close read."
—Michelle A. Cretella, MD, cochair of the Adolescent Sexuality Committee of the American College of Pediatricians, Advisory Board Advocates Protecting Children
 
"Thank God for Dr. Miriam Grossman. Thanks to her, we may finally have the book that begins our exit from a madness in which America finds itself. That madness is the belief that men can become women and women can become men.
            Lost in Trans Nation: A Child Psychiatrist's Guide Out of the Madness is mandatory reading for all parents who are enduring the indescribable trauma of having their beloved daughter insist she is a boy or whose beloved son insists he is a girl. It can literally be lifesaving and, at the least, sanity-saving and family-saving. For families who have a gender distressed child, Dr. Grossman provides practical advice on how to respond to the child's demands, how to find a non-ideology-driven therapist, and how to talk to the schools, teachers, physicians, and hospitals all collaborating in ruining their child's life.
            All good in history has been accomplished by outliers. Miriam Grossman is such an outlier."
—Dennis Prager, nationally syndicated radio talk show host, cofounder of PragerU and author of ten bestselling books
 
"The mind virus of gender ideology is coming for your children, and it has captured the medical, educational, and legal institutions meant to protect them. Dr. Grossman's Lost in Trans Nation serves as an essential resource for parents in a culture intent on confusion and chaos."
—Matt Walsh
 
"American parents face a new epidemic: the sudden declaration by children of a transgender identity, with demands for a new name, pronouns, and risky medical interventions. Dr. Grossman arms parents with the science and practical guidance they need to survive this nightmare, or better yet, prevent it altogether. America needs this book."
—Stanley Goldfarb, chairman, Do No Harm and former associate dean for curriculum the University of Pennsylvania's Perelman School of Medicine
 
"We are the largest support network in North America for parents of rapid-onset gender dysphoria (ROGD). As parents who have been through this nightmare with our own kids, we are canaries in the coalmine. Parents need to understand that their children are being bombarded with gender ideology relentlessly. It is promoted in their children's schools, among their friends, in the media, on the internet, and even by the very medical professionals they turn to for help. Dr. Grossman's book will help parents understand the depth and breadth of the problem and provide them with skills to protect and guide their children safely through."
—Jane, national organizer of Parents of ROGD Kids 
 
"Dr. Grossman warned parents about the gender movement a decade ago. Now that it's in full force, her book arms parents with the tools to fight the gender hydra that lurks around every bend. A must-read."
—Erin Friday, Esq., co-lead of Our Duty-USA, a support network for parents who wish to protect their children from gender ideology.
 
"Parents, are you aware of the gender indoctrination happening in your child's classroom? You better be—it's a pipeline to a gender clinic, keeping you in the dark. Don't be blindsided like so many parents in Dr. Grossman's practice. Her explosive book provides a roadmap and practical guidance to safeguard your child's physical and emotional health. Read this book, absorb every word, and inoculate your family against the scourge of transgender ideology.
—Tina Descovich and Tiffany Justice, cofounders Moms for Liberty 
 
"Dr. Miriam Grossman has done the public a tremendous service with this harrowing recounting of the ethical corruption of the medical profession and the devastation wrought by radical gender ideology on the lives of countless young and vulnerable Americans. If you want to know how the United States got to this crisis point, read this book."
—Josh Hammer, opinion editor, Newsweek
 
"In twenty-five years of experience as a health care policy expert at the state, national, and international levels, I have rarely met a more determined, strong, and courageous person than Dr. Miriam Grossman. In Lost in Trans Nation: A Child Psychiatrist's Guide Out of the Madness, Dr. Grossman provides us with much needed information and ammunition to support what we already instinctively knew but were struggling to articulate. In the name of 'affirmation' and health care, a horrific tragedy is being perpetrated on humanity's most vulnerable, impressionable, and malleable—our children. Dr. Grossman's book is a crucial resource, a scientifically sound treatise, and a necessary call to action for all those who care about the future of our children, our culture, and our country."
—Dianna Lightfoot, North Carolina Physicians for Freedom; White House Appointee USAID-Global Health 2017–2021
 
"Lost in Trans Nation is a ground-breaking book, and required reading for anyone who cares about our school-age generation. Dr. Miriam Grossman details the war being waged over our children's identities, with everyday parents and community members on one side, and proponents of a radical new 'gender-affirming' ideology on the other that is spreading like a contagion and is tearing apart families, threatening the fabric of society. She explains how this is a wholly different phenomenon than the rare cases of gender identity disorder seen in the past.
            In many cases the gender-affirming movement's proponents are well-meaning teachers, guidance counselors, doctors, and even parents buying into the 'need' for incredibly invasive medical interventions that are grounded in, as we learn, corrupted science and driven by powerful organizations and government policy. Parents are terrified that if they don't support their children's 'transition' to an ambiguous or opposite sex, their children's lives will be at risk.
            In Lost in Trans Nation, Dr. Grossman charts a path for navigating the madness of our times, a path that will help keep children safe, families whole, and society functional. Through this captivating work, readers will also find the courage to stand up for reality and truth, and for future generations."
—Jan Jekielek, senior editor at The Epoch Times and host of American Thought Leaders