Sprint: How to Solve Big Problems and Test New Ideas in Just Five Days (Hardcover)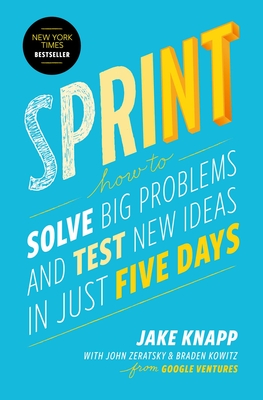 $30.00

Special Order- Usually Ships in 1-5 Days
Description
---
From inside Google Ventures, a unique five-day process for solving tough problems, proven at thousands of companies in mobile, e-commerce, healthcare, finance, and more.

Entrepreneurs and leaders face big questions every day: What's the most important place to focus your effort, and how do you start? What will your idea look like in real life? How many meetings and discussions does it take before you can be sure you have the right solution?

Now there's a surefire way to answer these important questions: the Design Sprint, created at Google by Jake Knapp. This method is like fast-forwarding into the future, so you can see how customers react before you invest all the time and expense of creating your new product, service, or campaign.

In a Design Sprint, you take a small team, clear your schedules for a week, and rapidly progress from problem, to prototype, to tested solution using the step-by-step five-day process in this book.

A practical guide to answering critical business questions, Sprint is a book for teams of any size, from small startups to Fortune 100s, from teachers to nonprofits. It can replace the old office defaults with a smarter, more respectful, and more effective way of solving problems that brings out the best contributions of everyone on the team—and helps you spend your time on work that really matters.
About the Author
---
Jake Knapp created the Design Sprint at Google, where he also helped build Gmail, cofounded Google Meet, and was a design partner at GV. He has since coached hundreds of teams on product strategy at places like Miro, Slack, Nike, LEGO, IDEO, the Wall Street Journal, and the Harvard Business School. Today, Jake is a cofounder at Character, where he helps startups find product-market fit with Design Sprints.

John Zeratsky supports startups with capital and sprints. As an investor and designer, he has worked with Slack, One Medical Group, Blue Bottle Coffee, Flatiron Health, Gusto, and hundreds of other successful startups. John is cofounder and general partner at venture capital firm Character. Previously, he was design partner at GV and a design leader at YouTube, Google Ads, and FeedBurner, which was acquired by Google in 2007.

Braden Kowitz founded the Google Ventures design team in 2009 and pioneered the role of "design partner" at a venture capital firm. He has advised close to two hundred startups on product design, hiring, and team culture. Before joining Google Ventures, Braden led design for several Google products, including Gmail, Google Apps for Business, Google Spreadsheets, and Google Trends.
Praise For…
---
"Every business leader I know worries about the same thing: Are we moving fast enough? The genius of Jake Knapp's Sprint is its step-by-step breakdown of what it takes to solve big problems and do work that matters with speed and urgency. A sprint is a cure for what ails companies in an ever faster world."
—Beth Comstock, vice chair of GE

"The key to success, often, is building the right habits. But which habits work best? Sprint offers powerful methods for hatching ideas, solving problems, testing solutions—and finding those small, correct habits that make all the right behaviors fall in place."
– Charles Duhigg, author of The Power of Habit

"To quote one of my colleagues, "don't get ready, get started". Through hard won experience Jake Knapp and the team at Google Ventures have refined an efficient, hands-on approach to solving your product, service and experience design challenges. Try the book and try a Sprint."
– Tim Brown, CEO of IDEO and author of Change By Design

"Read this book and do what it says if you want to build better products faster."
– Ev Williams, founder of Medium, Blogger, and Twitter

"Sprint teaches you a novel process for solving really thorny problems in just 5 days. It's full of helpful, entertaining stories that will make it easier for you to succeed. What more, exactly, would you demand from a book? I wish all business books were this useful."
– Dan Heath, co-author of Made to Stick, Switch, and Decisive