Infrastructure as Code: Managing Servers in the Cloud (Paperback)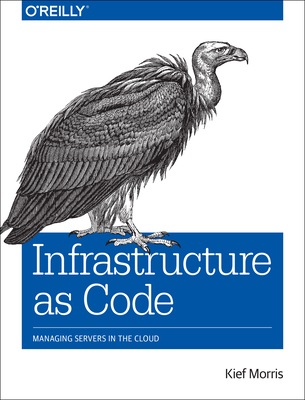 Description
---
Virtualization, cloud, containers, server automation, and software-defined networking are meant to simplify IT operations. But many organizations adopting these technologies have found that it only leads to a faster-growing sprawl of unmanageable systems. This is where infrastructure as code can help. With this practical guide, author Kief Morris of ThoughtWorks shows you how to effectively use principles, practices, and patterns pioneered through the DevOps movement to manage cloud age infrastructure.
Ideal for system administrators, infrastructure engineers, team leads, and architects, this book demonstrates various tools, techniques, and patterns you can use to implement infrastructure as code. In three parts, you ll learn about the platforms and tooling involved in creating and configuring infrastructure elements, patterns for using these tools, and practices for making infrastructure as code work in your environment.
Examine the pitfalls that organizations fall into when adopting the new generation of infrastructure technologies
Understand the capabilities and service models of dynamic infrastructure platforms
Learn about tools that provide, provision, and configure core infrastructure resources
Explore services and tools for managing a dynamic infrastructure
Learn specific patterns and practices for provisioning servers, building server templates, and updating running servers
About the Author
---
Kief Morris has been designing, building, and running automated IT server infrastructure for nearly twenty years, having started out with shell scripts and Perl, moving on to CFengine, Puppet, Chef, and Ansible among other technologies as they've emerged. He is the head of ThoughtWorks' European practice for Continuous Delivery and DevOps, helping clients find more effective ways of building and managing infrastructure operations.