Puppet Best Practices: Design Patterns for Maintainable Code (Paperback)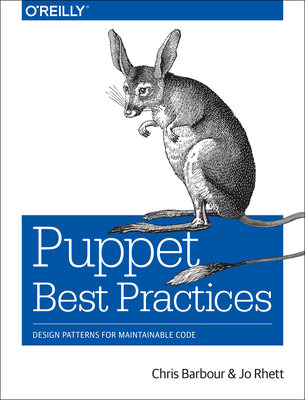 $49.99

Special Order- Usually Ships in 1-5 Days
Description
---
If you maintain or plan to build Puppet infrastructure, this practical guide will take you a critical step further with best practices for managing the task successfully. Authors Chris Barbour and Jo Rhett present best-in-class design patterns for deploying Puppet environments and discuss the impact of each. The conceptual designs and implementation patterns in this book will help you create solutions that are easy to extend, maintain, and support.
Essential for companies upgrading their Puppet deployments, this book teaches you powerful new features and implementation models that weren't available in the older versions. DevOps engineers will learn how best to deploy Puppet with long-term maintenance and future growth in mind.
Explore Puppet's design philosophy and data structures
Get best practices for using Puppet's declarative language
Examine Puppet resources in depth--the building blocks of state management
Learn to model and describe business and site-specific logic in Puppet
See best-in-class models for multitiered data management with Hiera
Explore available options and community experience for node classification
Utilize r10k to simplify and accelerate Puppet change management
Review the cost benefits of creating your own extensions to Puppet
Get detailed advice for extending Puppet in a maintainable manner
About the Author
---
Chris Barbour is a Practice Leader at Taos Mountain, Inc. He specializes in IT automation and large scale infrastructure, an has been working with configuration management solutions in various forms since 2008. Chris has maintained and deployed a mix of Puppet and Puppet Enterprise in a number of large scale multi-platform environments. In addition to his operational responsibilities, he provides training and professional guidance for consultants looking to learn Puppet or otherwise further their IT careers. Chris lives in the heart of Silicon Valley with his wife and son, and in his free time enjoys motorcycling, photography, and travel.Jo Rhett is a network architect and DevOps engineer with 20 years of experience conceptualizing and delivering large-scale Internet services. He focuses on creating automation and infrastructure to accelerate deployment and minimize outages.Jo has been using, promoting, and enhancing configuration management systems for over 20 years. He builds improvements and plugins for CfEngine, Puppet, MCollective, and many other DevOps tools.Jo is the author of Learning Puppet 4, Learning MCollective, and Instant Puppet 3 Starter (Packt).