The Enterprise Cloud: Best Practices for Transforming Legacy It (Paperback)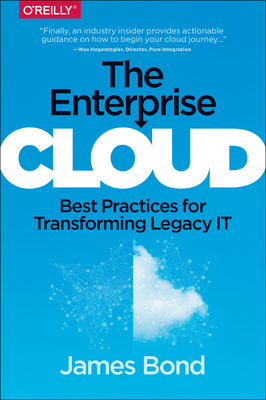 $42.99

Special Order- Usually Ships in 1-5 Days
Description
---
Despite the buzz surrounding the cloud computing, only a small percentage of organizations have actually deployed this new style of IT--so far. If you're planning your long-term cloud strategy, this practical book provides insider knowledge and actionable real-world lessons regarding planning, design, operations, security, and application transformation. This book teaches business and technology managers how to transition their organization's traditional IT to cloud computing. Rather than yet another book trying to sell or convince readers on the benefits of clouds, this book provides guidance, lessons learned, and best practices on how to design, deploy, operate, and secure an enterprise cloud based on real-world experience.
Author James Bond provides useful guidance and best-practice checklists based on his field experience with real customers and cloud providers. You'll view cloud services from the perspective of a consumer and as an owner/operator of an enterprise private or hybrid cloud, and learn valuable lessons from successful and less-than-successful organization use-case scenarios. This is the information every CIO needs in order to make the business and technical decisions to finally execute on their journey to cloud computing.
Get updated trends and definitions in cloud computing, deployment models, and for building or buying cloud services
Discover challenges in cloud operations and management not foreseen by early adopters
Use real-world lessons to plan and build an enterprise private or hybrid cloud
Learn how to assess, port, and migrate legacy applications to the cloud
Identify security threats and vulnerabilities unique to the cloud
Employ a cloud management system for your enterprise (private or multi-provider hybrid) cloud ecosystem
Understand the challenges for becoming an IT service broker leveraging the power of the cloud
About the Author
---
James Bond is a subject matter expert in cloud computing with over 25 years of experience in the IT industry. He is a true cloud industry pioneer having created several successful companies, business practices, and hosted infrastructure and software services long before the term cloud computing was first used. James is a Chief Technologist for Hewlett Packard (HP) providing cloud strategy, guidance, and implementation planning to Fortune 100 organizations that are planning a transition from legacy IT to cloud. He is a featured speaker at industry conferences and customer executive briefings throughout North America.Mr. Bond has built several Application Service Provider and Software--?as--?a--?Service companies and practices in the past 10 years serving in Chief Technology Officer, Chief Operating Officer, Vice President, Senior Architect, and Software Development roles. He is currently focused on cloud computing and creating technology reference architectures and solution deployment standards for HPES. He routinely delivers technology strategy and lessons learned briefings to C--?level executives-- both educating and providing guidance on how to transition to cloud computing environments and lessons learned based on the first five years of the cloud industry and this new style of IT service delivery.Mr. Bond has a Bachelor Degree in Information Technology from the University of Maryland and has received numerous industry certifications and awards throughout his career. While this is his first published book, he has been a long--?time contributor to numerous industry magazines and blogs as well as speaker at IT conferences.