RSPB Spotlight Crows (Paperback)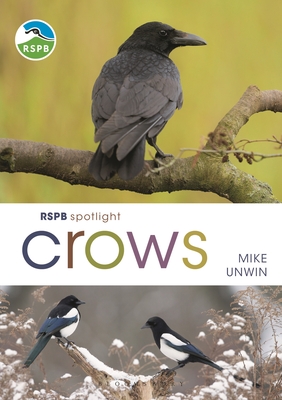 $18.00
Email or call for price.
Description
---
RSPB Spotlight Crows is packed with eye-catching, informative colour photos and features succinct, detailed text written by a knowledgeable naturalist.

In Spotlight Crows, Mike Unwin looks at the biology and ecology of all eight UK corvids and investigates why these birds have become deeply embedded in our culture, from children's rhymes and Norse mythology to Shakespeare's plays and the poems of Edgar Allen Poe.

Most of the UK's crow species--carrion crow, hooded crow, rook, jackdaw, raven, chough, magpie and jay--are very familiar birds to urban householder and countryside dweller alike. Together they make up the Corvidae family, and they have been deeply intertwined in our lives and culture since prehistoric times.

However, familiarity often breeds contempt, and crows--also known as corvids--have long attracted a bad press. Reviled as raiders of crops, feeders on carrion, thieves of jewelry and bullies of smaller birds, crows have often found themselves on the wrong end of a shotgun. Yet the more we learn about them, the more fascinating they become.

Behind the behavior some find objectionable lie exceptional intelligence and resourcefulness. These qualities have long captivated scientists and excited the admiration of anyone who takes the time to know crows better.
About the Author
---
Mike Unwin is a freelance writer, editor and illustrator with over 13 years' experience in natural history publishing. In 2000 he won the BBC Wildlife travel-writing competition. His children's titles include the bestselling RSPB My First Book of Garden Birds and My First Book of Garden Wildlife.