White Fire (Agent Pendergast Series #13) (Large Print / Hardcover)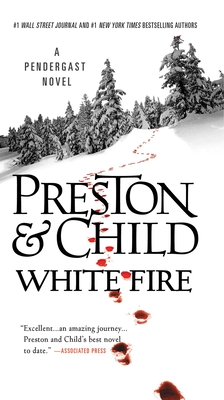 $47.00

Special Order- Usually Ships in 1-5 Days
Other Books in Series
This is book number 13 in the Agent Pendergast Series series.
Description
---
Past and present collide as Special Agent Pendergast uncovers a mysterious connection between a string of 19th century bear attacks in a Colorado mining town, a long-lost Sherlock Holmes story, and a deadly arsonist.
In 1876, in a mining camp called Roaring Fork in the Colorado Rockies, eleven miners were killed by a rogue grizzly bear. Corrie Swanson has arranged to examine the miners' remains. When she makes a shocking discovery, town leaders try to stop her from exposing their community's dark and bloody past.

Just as Special Agent Pendergast of the FBI arrives to rescue his protege, the town comes under siege by a murderous arsonist who-with brutal precision-begins burning down multimillion-dollar mansions with the families locked inside. Drawn deeper into the investigation, Pendergast discovers a long-lost Sherlock Holmes story that may be the key to solving both the mystery of the long-dead miners and the modern-day killings as well.

Now, with the ski resort snowed in and under savage attack-and Corrie's life suddenly in grave danger-Pendergast must solve the enigma of the past before the town of the present goes up in flames.

About the Author
---
The thrillers of Douglas Preston and Lincoln Child "stand head and shoulders above their rivals" (Publishers Weekly). Preston and Child's Relic and The Cabinet of Curiosities were chosen by readers in a National Public Radio poll as being among the one hundred greatest thrillers ever written, and Relic was made into a number-one box office hit movie. They are coauthors of the famed Pendergast series and their recent novels include Fever Dream, Cold Vengeance, Two Graves, and Gideon's Corpse. In addition to his novels, Preston writes about archaeology for the New Yorker and Smithsonian magazines. Lincoln Child is a former book editor who has published five novels of his own, including the huge bestseller Deep Storm.
Readers can sign up for The Pendergast File, a monthly "strangely entertaining note" from the authors, at their website, www.PrestonChild.com. The authors welcome visitors to their alarmingly active Facebook page, where they post regularly.
Praise For…
---
"Another highly entertaining and genuinely thrilling story from Preston & Child starring their romantic, faintly gothic, and always mysterious FBI agent, Aloysius Pendergast. As always the prose is elegant, replete with exquisite descriptions, and this time we're treated to dashes of historic characters Conan Doyle and Oscar Wilde, as well as a positively delicious serving of the great Sherlock Holmes. Through myriad shocks, surprises, twists and turns, the suspense never lets up. Great fun to the last page."—Anne Rice

"A mile-a-minute thriller with a deeply entertaining plot and marvelous characters, in a setting that will chill your blood, and not only because it's 10 degrees below zero and covered with snow. My copy is full of crumbs because I couldn't put it down long enough to eat."—Diana Gabaldon

"WHITE FIRE is as incandescent as its title, a beautifully organized, tautly paced book that really did just yank me in and demand that I keep reading. I'm very grateful for the experience."—Peter Straub

"Preston and Child have created a terrific mix of mystery and the unexpected that will keep you reading into the late hours of the night. They promise a great read and they have delivered."—Clive Cussler


"Pendergast--an always-black-clad pale blond polymath, gaunt yet physically deadly, an FBI agent operating without supervision or reprimand--lurks at the dark, sharp edge of crime fiction protagonists."—Kirkus Reviews

"Preston and Child continue their dominance of the thriller genre with stellar writing and twists that come at a furious pace. Others may try to write like them, but no one can come close. The best in the business deliver another winner."—RT Book Reviews on Cold Vengeance

"This is no dream; it's the authors' best book in years. Pendergast has to rein in his feelings to pay attention to the details, and it's fun to see the role reversal between him and the usually emotional D'Agosta. Not to be missed by either newcomers or die-hard fans."—Library Journal (starred review) for Fever Dream