Reinventing the Austin City Council (PLAC: Political Lessons from American Cities) (Paperback)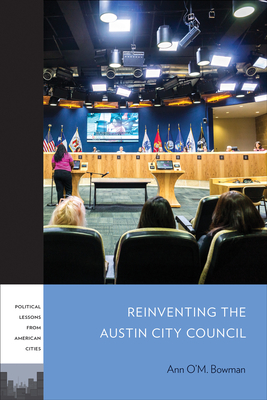 $19.95

Special Order- Usually Ships in 1-5 Days
Description
---
Until recently, Austin, the progressive, politically liberal capital of Texas, elected its city council using a not-so-progressive system. Candidates competed citywide for seats, and voters could cast ballots for as many candidates as there were seats up for election. However, this approach disadvantages the representation of geographically-concentrated minority groups, thereby—among other things—preventing the benefits of growth from reaching all of the city's communities.
Reinventing the Austin City Council explores the puzzle that was Austin's reluctance to alter its at-large system and establish a geographically-based, single-member district system. Ann Bowman chronicles the repeated attempts to change the system, the eventual decision to do so, and the consequences of that change. In the process, she explores the many twists and turns that occurred in Austin as it struggled to design a fair system of representation. Reinventing the Austin City Council assesses the impact of the new district system since its inception in 2014. 
Austin's experience ultimately offers a political lesson for creating institutional change.
About the Author
---
Ann O'M. Bowman is a Professor of Government in the Department of Public Service and Administration in the Bush School of Government and Public Service at Texas A&M University and holds the Hazel Davis and Robert Kennedy Endowed Chair.  She is the co-author of several books including State and Local Government  and Terra Incognita: Vacant Land and Urban Strategies.
Praise For…
---
"This is a deeply researched yet readable analysis of Austin's shift in city council composition. Austinites will recognize the players and positions, but the interested reader will find much to ponder as well. The impact of Austin's new governance structure is still evolving—and this book is essential for understanding it."—Annise Parker, former Mayor of Houston