If There Is No Struggle There Is No Progress: Black Politics in Twentieth-Century Philadelphia (Paperback)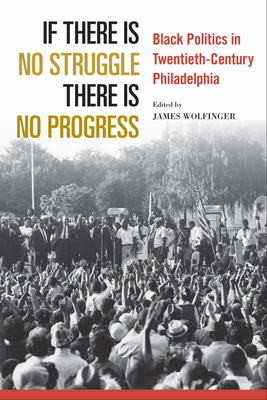 $34.95

Special Order- Usually Ships in 1-5 Days
Description
---
Philadelphia has long been a crucial site for the development of Black politics across the nation. If There Is No Struggle There Is No Progress provides an in-depth historical analysis—from the days of the Great Migration to the present—of the people and movements that made the city a center of political activism. The editor and contributors show how Black activists have long protested against police abuse, pushed for education reform, challenged job and housing discrimination, and put presidents in the White House.  
If There Is No Struggle There Is No Progress emphasizes the strength of political strategies such as the "Don't Buy Where You Can't Work" movement and the Double V campaign. It demonstrates how Black activism helped shift Philadelphia from the Republican machine to Democratic leaders in the 1950s and highlights the election of politicians like Robert N. C. Nix, Sr., the first African American representative from Philadelphia. In addition, it focuses on grassroots movements and the intersection of race, gender, class, and politics in the 1960s, and shows how African Americans from the 1970s to the present challenged Mayor Frank Rizzo and helped elect Mayors Wilson Goode, John Street, and Michael Nutter. 
If There Is No Struggle There Is No Progress cogently makes the case that Black activism has long been a powerful force in Philadelphia politics.
About the Author
---
James Wolfinger is Dean of the School of Education and holds a joint appointment as Professor in the Department of Curriculum and Instruction and the Department of History at St. John's University. He is the author of Philadelphia Divided: Race and Politics in the City of Brotherly Love and Running the Rails: Capital and Labor in the Philadelphia Transit Industry.
 
Praise For…
---
"This anthology uses Philadelphia as a case study to show the essential role of protest in protecting the rights of Black Americans.... The topics of civil rights, voting rights, and fair housing unite each author's contribution to this anthology. In sum, this useful resource offers much to people searching for an approach that provides clarity and continuity to what might otherwise appear as a disjointed historical narrative.... Summing Up: Recommended."—Choice

"If There Is No Struggle There Is No Progress is required reading for all who are interested in Philadelphia's history and the history of race and politics in the urban North. By providing a decade-by-decade analysis of how Black politics—defined both as social movements and electoral politics—in Philadelphia evolved over the course of the twentieth century and into the twenty-first century, the essays in this volume make major contributions to historical scholarship on African American and urban politics."—Matthew J. Countryman, Associate Professor of African American and African Studies and History at the University of Michigan, and author of Up South: Civil Rights and Black Power in Philadelphia

"A fascinating account of the complexity of twentieth-century Black political activity, If There Is No Struggle There Is No Progress is essential for understanding the roots of today's racial struggles in Philadelphia and beyond."—Lisa Levenstein, Director of Women's, Gender, and Sexuality Studies and Professor of History at the University of North Carolina at Greensboro, and author of A Movement Without Marches: African American Women and the Politics of Poverty in Postwar Philadelphia

"This edited collection contains rich historical and political detail, providing a goldmine of information for people interested in the development of Black politics, and Philadelphia politics in general.... This book should appeal to practitioners because of the insights into coalition building and elections. It would be an excellent read for undergraduate and graduate courses on urban politics, race and politics, Black politics, and elections. Finally, anyone interested in the political history of Philadelphia should read this book."—Journal of Urban Affairs