Anathem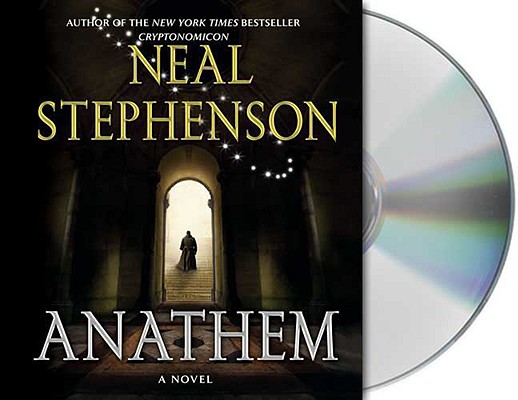 $69.95
Email or call for price.
September 2008 Indie Next List
---
"Welcome to a world that only Neal Stephenson could create: math as religion! Amidst a tumult of squabbling, consumerist societies stand a handful of monastic enclaves where logic and science are sacred. When the entire planet is threatened, order and chaos make very strange bedfellows. Anathem is a cerebral romp!"
— Hap Houlihan, The Morris Book Shop, Lexington, KY
Description
---
Fraa Erasmas is a young avout living in the Concent of Saunt Edhar, a sanctuary for mathematicians, scientists, and philosophers, protected from the corrupting influences of the outside "saecular" world by ancient stone and complex rituals. Over the centuries, cities and governments have risen and fallen beyond the concents walls, yet the avout have always managed to adapt in the wake of catastrophe.
Now, in celebration of the week-long, once-in-a-decade rite of Apert, the fraas and suurs prepare to venture beyond the concent. During his first Apert as a fraa, Erasmas eagerly anticipates reconnecting with the landmarks and family he hasn't seen since he was "collected." But before the week is out, both the existence he abandoned and the one he embraced will stand on the brink of cataclysmic change.
Powerful unforeseen forces jeopardize the peaceful stability of mathic life and the established ennui of the Extramuros. Erasmas and his colleagues, teachers, and friends are summoned forth from the safety of the concent in hopes of warding off global disaster. Erasmas finds himself a major player in a drama that will determine the future of his world
A multi-cast recording, this program also features a cameo by the author and original music inspired by the story. Composer David Stutz says of the writing process, "I was excited by the creative possibilities opened up by Neal's imagination. These ideas, realized, are the music that you hear on this audiobook.
About the Author
---
NEAL STEPHENSON is the author of seven previous novels. He lives in Seattle, WA.
Praise For…
---
"This audiobook goes the extra mile, giving listeners something the printed page-turner can not. Fans of the cult author will enjoy his vocal cameo appearances…[and] the music between chapters that was composed specifically for this production… [William Dufris's] intelligent rendering of the cast of characters is a delight for the ears."--Publishers Weekly, Starred Review "Dufris is stalwart in his engagement with the characters, the plot, and the development of the cosmology. He brings out the characters' personalities and creates a sense of wonder as the complexities unfold."--AudioFile "Given its complexity of its language, Anathem poses a real challenge to audiobook producers. Fortunately, the narrators are up to the task. William Dufris performs the bulk of the novel, and he shifts easily from the erudite jargon of the book's dialogues to its memorable emotional climaxes.... Dufris brings every character to life as if they were in a speely, the Arbre equivalent of film."--SFFAudio.com