Nature's Laboratory: Environmental Thought and Labor Radicalism in Chicago, 1886-1937 (Hardcover)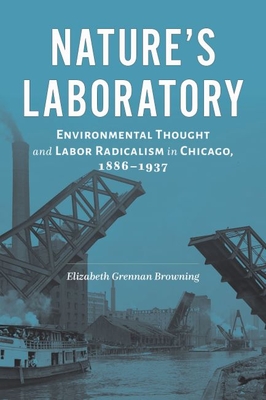 $57.44

Special Order- Usually Ships in 1-5 Days
Description
---
The untold history of how Chicago served as an important site of innovation in environmental thought as America transitioned to modern, industrial capitalism.
In Nature's Laboratory, Elizabeth Grennan Browning argues that Chicago--a city characterized by rapid growth, severe labor unrest, and its position as a gateway to the West--offers the clearest lens for analyzing the history of the intellectual divide between countryside and city in the United States at the end of the nineteenth century. By examining both the material and intellectual underpinnings of Gilded Age and Progressive Era environmental theories, Browning shows how Chicago served as an urban laboratory where public intellectuals and industrial workers experimented with various strains of environmental thinking to resolve conflicts between capital and labor, between citizens and their governments, and between immigrants and long-term residents.
Chicago, she argues, became the taproot of two intellectual strands of American environmentalism, both emerging in the late nineteenth century: first, the conservation movement and the discipline of ecology; and second, the sociological and anthropological study of human societies as "natural" communities where human behavior was shaped in part by environmental conditions. Integrating environmental, labor, and intellectual history, Nature's Laboratory turns to the workplace to explore the surprising ways in which the natural environment and ideas about nature made their way into factories and offices--places that appeared the most removed from the natural world within the modernizing city.
As industrialization, urbanization, and immigration transformed Chicago into a microcosm of the nation's transition to modern, industrial capitalism, environmental thought became a protean tool that everyone from anarchists and industrial workers to social scientists and business managers looked to in order to stake their claims within the democratic capitalist order. Across political and class divides, Chicagoans puzzled over what relationship the city should have with nature in order to advance as a modern nation. Browning shows how historical understandings of the complex interconnections between human nature and the natural world both reinforced and empowered resistance against the stratification of social and political power in the city.
About the Author
---
Elizabeth Grennan Browning is an assistant professor of history at the University of Oklahoma.