I'm Off Then: Losing and Finding Myself on the Camino de Santiago (Paperback)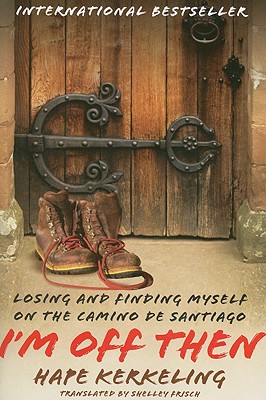 $18.99

Special Order- Usually Ships in 1-5 Days
Description
---
From one of Germany's most beloved celebrities, a cross between Bill Bryson and Paulo Coelho.

It has sold over 3 million copies and been translated into eleven different languages. Pilgrims have increased along the Camino by 20 percent since the book was published. Hape Kerkeling's spiritual epiphany has struck a nerve.

Overweight, overworked, and physically unfit, Kerkeling was an unlikely candidate to make the arduous pilgrimage across the French Alps to the Spanish Shrine of St. James, a 1,200-year-old journey undertaken by nearly 100,000 people every year. But that didn't stop him from getting off the couch and walking. Along the way, lonely and searching for meaning, he began the journal that turned into this utterly frank, engaging book. Simply by struggling with his physical limitations and the rigors of long-distance walking, he discovered a deep sense of peace that transformed his life and allowed him to forgive himself, and others, more readily. He learned something every day, and he took to finishing each entry with his daily lessons.

Filled with quirky fellow pilgrims, historic landscapes, and Kerkeling's self-deprecating sense of humor, I'm Off Then is an inspiring travelogue, a publishing phenomenon, and a spiritual journey unlike any other.
About the Author
---
Hape Kerkeling, one of Europe's most popular comedic entertainers, is the winner of the Karl Valentin Prize for Humor, the Chatwin Award for Best Travel Book of the Year, and numerous other prizes. I'm Off, Then, his first book, has become a bestselling sensation in Germany. He lives in Berlin.

Shelley Frisch's award-winning translations from German include biographies of Friedrich Nietzsche, Albert Einstein, Marlene Dietrich, Leni Riefenstahl, and Franz Kafka. She lives in Princeton, New Jersey.