Why Things Break: Understanding the World By the Way It Comes Apart (Paperback)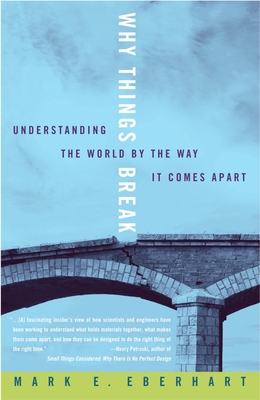 $14.00
Email or call for price.
Description
---
Did you know—

• It took more than an iceberg to sink the Titanic.
• The Challenger disaster was predicted.
• Unbreakable glass dinnerware had its origin in railroad lanterns.
• A football team cannot lose momentum.
• Mercury thermometers are prohibited on airplanes for a crucial reason.
• Kryptonite bicycle locks are easily broken.

"Things fall apart" is more than a poetic insight—it is a fundamental property of the physical world. Why Things Break explores the fascinating question of what holds things together (for a while), what breaks them apart, and why the answers have a direct bearing on our everyday lives.

When Mark Eberhart was growing up in the 1960s, he learned that splitting an atom leads to a terrible explosion—which prompted him to worry that when he cut into a stick of butter, he would inadvertently unleash a nuclear cataclysm. Years later, as a chemistry professor, he remembered this childhood fear when he began to ponder the fact that we know more about how to split an atom than we do about how a pane of glass breaks.

In Why Things Break, Eberhart leads us on a remarkable and entertaining exploration of all the cracks, clefts, fissures, and faults examined in the field of materials science and the many astonishing discoveries that have been made about everything from the explosion of the space shuttle Challenger to the crashing of your hard drive. Understanding why things break is crucial to modern life on every level, from personal safety to macroeconomics, but as Eberhart reveals here, it is also an area of cutting-edge science that is as provocative as it is illuminating.

"An engaging personal account not just of the physics and chemistry of materials but of the ethics, economics, and politics of innovation, with delightful bonuses on topics from the origins of 'ghostly' noises in old houses to the amazing coevolution of armor and armor-piercing projectiles. If it ain't broke, Mark Eberhart can tell you why—and explain equally well why a shatterproof world remains beyond our reach."
—Edward Tenner, author of Our Own Devices and Why Things Bite Back

"I don't remember a book that has taught me so much, nor previously encountering a teacher like the marvelous Mark Eberhart, who in Why Things Break provides enlightening and thoroughly captivating scientific explanations of subjects ranging from the structural failures leading to the sinking of the Titanic to everyday, no-less-fascinating topics such as the reason why, even at the same temperature, winter days always seem so much colder in Boston than in Denver."—Richard Restak, M.D., author of Mozart's Brain and The Fighter Pilot

"Eberhart brings his insights to the reader by weaving personal anecdotes—from his childhood fear that cutting a stick of butter would release the energy of the atoms within to his arrival in Boston for an interview with MIT without a suitable winter coat—into a fascinating discussion of the forces that hold atoms and molecules together. A lively, unvarnished look at chemistry on the cutting edge."
—Kirkus Reviews
About the Author
---
MARK E. EBERHART is a professor of chemistry and geochemistry at the Colorado School of Mines. He received his doctorate in materials science from the Massachusetts Institute of Technology.