The Technology Doesn't Matter: Prioritizing the People in It Business Alignment (Paperback)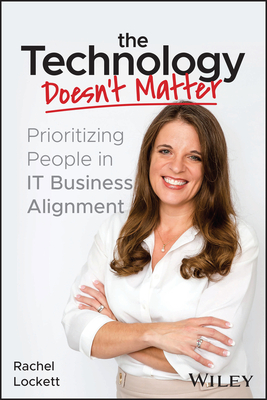 $30.00

Special Order- Usually Ships in 1-5 Days
Description
---
Discover the secret to productive IT-business alignment
In The Technology Doesn't Matter: Prioritizing the People in IT Business Alignment, veteran IT executive Rachel Lockett delivers an engaging and insightful discussion of how to turn around IT departments struggling to effectively collaborate with their business counterparts. In the book, you'll explore the proven and established People-Process-Technology framework and break down innovative approaches to IT-business alignment in a clear and accessible style.
The author explains how to "manage up" and "manage down" to create inter- and intra-departmental synergy, as well as:
How to identify the four types of business leaders, and the ways they can contribute to an effective IT business alignment
Practical solutions to even the most seemingly intractable technology alignment problems
Hands-on professional development guidance for IT and business leaders
An essential and original resource for executives, managers, directors, founders, entrepreneurs, and other business leaders, The Technology Doesn't Matter will also appeal to tech leaders and technology service providers seeking to better communicate with non-technical professionals. It's also a practical handbook for business leaders who want to better understand, relate to, and collaborate with their IT colleagues, improve engagement and retention amongst IT employees, and align the interests of technical and non-technical professionals.
About the Author
---
RACHEL LOCKETT has over 20 years' experience in Information Technology Leadership/Management. Her professional focus is on helping organizational leaders align IT and business operations. She is the Chief Information Officer at Pohlad Companies and the recipient of the 2020 Twin Cities Enterprise CIO of the Year Award.