Wild Girls: How the Outdoors Shaped the Women Who Challenged a Nation (A Norton Short) (Hardcover)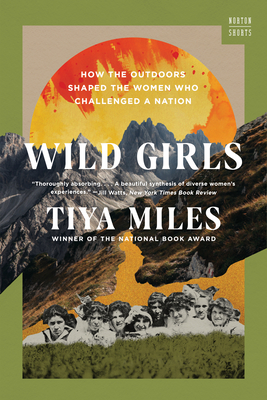 $22.00

Special Order- Usually Ships in 1-5 Days
Description
---
A Publishers Weekly and New York Public Library Best Book of 2023



An award-winning historian shows how girls who found self-understanding in the natural world became women who changed America.
Harriet Tubman, forced to labor outdoors on a Maryland plantation, learned from the land a terrain for escape. Louisa May Alcott ran wild, eluding gendered expectations in New England. The Indigenous women's basketball team from Fort Shaw, Montana, recaptured a sense of pride in physical prowess as they trounced the white teams of the 1904 World's Fair. Celebrating women like these who acted on their confidence outdoors, Wild Girls brings new context to misunderstood icons like Sacagawea and Pocahontas, and to underappreciated figures like Native American activist writer Zitkála-Šá, also known as Gertrude Bonnin, farmworkers' champion Dolores Huerta, and labor and Civil Rights organizer Grace Lee Boggs.
This beautiful, meditative work of history puts girls of all races—and the landscapes they loved—at center stage and reveals the impact of the outdoors on women's independence, resourcefulness, and vision. For these trailblazing women of the nineteenth and early twentieth centuries, navigating the woods, following the stars, playing sports, and taking to the streets in peaceful protest were not only joyful pursuits, but also techniques to resist assimilation, racism, and sexism. Lyrically written and full of archival discoveries, Wild Girls evokes landscapes as richly as the girls who roamed in them—and argues for equal access to outdoor spaces for young women of every race and class today.
About the Author
---
Tiya Miles is the Michael Garvey Professor of History at Harvard University, the author of five prize-winning works on the history of slavery and early American race relations, and a 2011 MacArthur Fellowship recipient. She was the founder and director of the Michigan-based ECO Girls program, and she is the author of the National Book Award–winning, New York Times best-selling All That She Carried. She lives in Cambridge, Massachusetts.
Praise For…
---
Thoroughly absorbing . . . A beautiful synthesis of diverse women's experiences, combining history with memoir and a call to action, this brisk, elegant study. . . reframes hard-fought battles for women's equality through the lens of empowerment provided by the natural world. It begs us to acknowledge the primacy of the earth not only in historical lives but in our own as well.
— New York Times

A sensitive examination of the lives of women—primarily Black and Native American—for whom the natural world served as an 'imagination station and training ground'…a fresh, graceful contribution to women's history.
— Kirkus Reviews

Evocative and unique . . . an inventive take on what inspired people to challenge norms and agitate for change.
— Publishers Weekly

The personal stories range from intriguing to downright inspiring—the Native American players of the Fort Shaw basketball team deserve a movie!—but it is the author's insatiable curiosity and obvious affection for her subjects that will most captivate readers. So many fascinating women of different races are included in this little book. It's a true treasure! This gem is an obvious choice for teens.
— Booklist

With delights and surprises at every turn, Wild Girls has given me a new pantheon of heroes to admire and emulate.

— Elizabeth A. Fenn, Pulitzer Prize–winning author of Encounters at the Heart of the World

A moving meditation on race, history, and possibility; an enticing invitation to seek renewal in green spaces; a rousing exhortation to women and girls to claim freedom in the wild. Tiya Miles offers us a rhapsodic account of nature as a respite from, and remedy for, the failings of society and culture.
— Nicole Eustace, Pulitzer Prize–winning author of Covered with Night

Wild Girls invites readers on a crucial journey of insight and humanity, reminding us how each life—whether enslaved or dispossessed, marginalized or privileged—takes place on this Earth. This reckoning with their pasts illuminates possibilities for our future.

— Lauret Savoy, author of Trace

Through incredible storytelling and study, Tiya Miles uncovers how girls and women learned new skills and, ultimately, empowerment and peace through their experiences in the natural world.
— Brenda J. Child, author of My Grandfather's Knocking Sticks

A lovingly rendered and rigorously researched book… These stories are a call to action, a reminder that if we lose our way, Nature is a bridge. I, for one, am rejuvenated. What a gift.
— Carolyn Finney, author of Black Faces, White Spaces