To Hold Up the Sky (CD-Audio)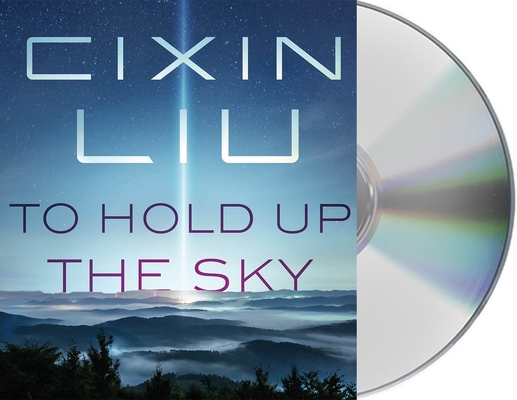 $52.99
Email or call for price.
Description
---
From New York Times bestselling author Cixin Liu comes a short story collection of captivating visions of the future and incredible re-imaginings of the past.

In To Hold Up the Sky, Cixin Liu takes us across time and space, from a rural mountain community where elementary students must use physicas to prevent an alien invasion; to coal mines in northern China where new technology will either save lives of unleash a fire that will burn for centuries; to a time very much like our own, when superstring computers predict our every move; to 10,000 years in the future, when humanity is finally able to begin anew; to the very collapse of the universe itself.

Written between 1999 and 2017 and never before published in English, these stories came into being during decades of major change in China and will take you across time and space through the eyes of one of science fiction's most visionary writers.

Experience the limitless and pure joy of Cixin Liu's writing and imagination in this stunning collection.

Stories included are:
Contraction
Full Spectrum Barrage Jamming
The Village Teacher
Fire in the Earth
Time Migration
Ode to joy
Cloud of Poems
Mirror
Sea of Dreams
Cloud of Poems
The Thinker

This program is read by: Vikas Adam, Feodor Chin, Greg Chun, Robert Fass, Catherine Ho, Natalie Naudus, Brian Nishii, P. J. Ochlan, Emily Woo Zeller, and Nancy Wu

A Macmillan Audio production from Tor Books
About the Author
---
CIXIN LIU is the most prolific and popular science fiction writer in the People's Republic of China. Liu is an eight-time winner of the Galaxy Award (the Chinese Hugo) and a winner of the Chinese Nebula Award. Prior to becoming a writer, he worked as an engineer in a power plant. His novels include The Three-Body Problem, The Dark Forest, and Death's End.

Winner of the prestigious Audie Award (for History and Audio Drama), veteran actor Robert Fass is equally at home in a wide variety of styles, genres, characters, and dialects. A seven-time Audie nominee with over 100 unabridged audiobooks to his credit, Robert has also earned multiple Earphones Awards, including for his narration of Joe Golem and the Drowning City by Mike Mignola and Christopher Golden. Robert has given voice to modern and classic fiction writers alike, including Ray Bradbury, Joyce Carol Oates, John Steinbeck, Carlos Fuentes, Isaac Asimov, Ellery Queen, Steve Berry, Jeffrey Deaver, and Nele Neuhaus, plus bestselling nonfiction works in history, politics, health, journalism, philosophy, and business.
Praise For…
---
"This audacious and ultimately optimistic early work will give Liu's English-reading fans a glimpse at his evolution as a writer and give any speculative fiction reader food for deep thought."—Shelf Awareness on Supernova Era

Praise for the Three-Body trilogy

"Wildly imaginative."—President Barack Obama

"The War of the Worlds for the twenty-first century . . . Packed with a sense of wonder."—The Wall Street Journal

"A breakthrough book . . . A unique blend of scientific and philosophical speculation, politics and history, conspiracy theory and cosmology."—George R. R. Martin

"Tackles politics, philosophy, and virtual reality in a story that moves at a thriller's pace."—The Washington Post

"Evokes the thrill of exploration and the beauty of scale."—The New Yorker

"Stunning, elegant . . . A science fiction epic of the most profound kind."—NPR