Attack Surface (Little Brother #3) (Hardcover)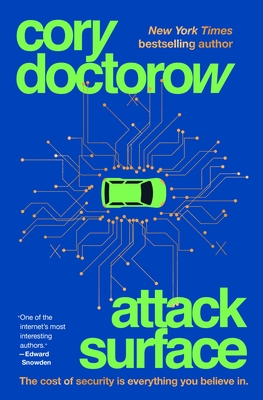 $26.99
Email or call for price.
Description
---
Cory Doctorow's Attack Surface is a standalone novel set in the world of New York Times bestsellers Little Brother and Homeland.

Most days, Masha Maximow was sure she'd chosen the winning side.

In her day job as a counterterrorism wizard for an transnational cybersecurity firm, she made the hacks that allowed repressive regimes to spy on dissidents, and manipulate their every move. The perks were fantastic, and the pay was obscene.

Just for fun, and to piss off her masters, Masha sometimes used her mad skills to help those same troublemakers evade detection, if their cause was just. It was a dangerous game and a hell of a rush. But seriously self-destructive. And unsustainable.

When her targets were strangers in faraway police states, it was easy to compartmentalize, to ignore the collateral damage of murder, rape, and torture. But when it hits close to home, and the hacks and exploits she's devised are directed at her friends and family--including boy wonder Marcus Yallow, her old crush and archrival, and his entourage of naïve idealists--Masha realizes she has to choose.

And whatever choice she makes, someone is going to get hurt.
About the Author
---
Cory Doctorow (craphound.com) is a science fiction author, activist, and journalist. His latest book is THE LOST CAUSE, a solarpunk science fiction novel of hope amidst the climate emergency. His most recent nonfiction book is THE INTERNET CON: HOW TO SEIZE THE MEANS OF COMPUTATION, a Big Tech disassembly manual. Last April, he published RED TEAM BLUES, a technothriller about finance crime. He is the author of the international young adult LITTLE BROTHER series. He is also the author of CHOKEPOINT CAPITALISM (with Rebecca Giblin), about creative labor markets and monopoly; HOW TO DESTROY SURVEILLANCE CAPITALISM, nonfiction about conspiracies and monopolies; and of RADICALIZED and WALKAWAY, science fiction for adults, a YA graphic novel called IN REAL LIFE; and other young adult novels like PIRATE CINEMA. His first picture book was POESY THE MONSTER SLAYER (Aug 2020). His next novel is THE BEZZLE (February 2024). He maintains a daily blog at Pluralistic.net. He works for the Electronic Frontier Foundation, is a MIT Media Lab Research Affiliate, is a Visiting Professor of Computer Science at Open University, a Visiting Professor of Practice at the University of North Carolina's School of Library and Information Science and co-founded the UK Open Rights Group. Born in Toronto, Canada, he now lives in Los Angeles. In 2020, he was inducted into the Canadian Science Fiction and Fantasy Hall of Fame. In 2022, he earned the Sir Arthur Clarke Imagination in Service to Society Awardee for lifetime achievement. York University (Canada) made him an Honourary Doctor of Laws; and the Open University (UK) made him an Honourary Doctor of Computer Science.