A Naturalist Goes Fishing: Casting in Fragile Waters from the Gulf of Mexico to New Zealand's South Island (Paperback)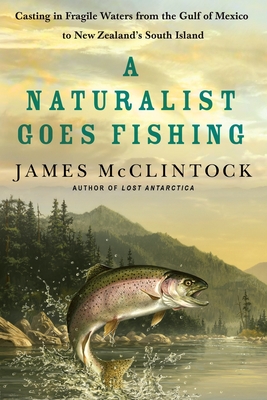 $22.99

Special Order- Usually Ships in 1-5 Days
Description
---
In the tradition of fishing classics, A Naturalist Goes Fishing combines elements of the triumph between fisher and fish, humor and wit, and a passionate concern for the natural environment.

James McClintock takes us to some of the most breathtaking waters the world has to offer while capturing the drama and serendipity in the beloved sport of fishing. We follow him and his fishing buddies and professional guides, as he fishes off the marshy barrier islands of Louisiana, teeming with life but also ravaged by recent disasters like the Deepwater Horizon spill. We travel to the remote waters of New Zealand's Stewart Island, where the commercial fishing industry is fast disappearing; fish for gigantic Antarctic toothfish through a drilled ice hole at McMurdo Station; and scout for spotted bass on Alabama's Cahaba River, which has the highest diversity of fresh water fish in North America. As we take this global journey, we see how sea level rise, erosion, pollution, water acidification, and overfishing each cause damage.

This strikingly beautiful narrative is a must read for anglers and nature lovers alike.
About the Author
---
James McClintock is one of the world's foremost experts on Antarctica, and currently the Endowed University Professor of Polar and Marine Biology at the University of Alabama at Birmingham. He is the author of Lost Antarctica. McClintock has appeared on local, national, and international public radio, CNN news, and the Weather Channel. He has been quoted in National Geographic, Discover Magazine, The Los Angeles Times, Chicago Tribune, The Wall Street Journal, and others. Each year he leads a philanthropic cruise to the Antarctic Peninsula, sponsored by Abercrombie and Kent. McClintock Point , a body of land on the north side of the entrance of Explorer's Cove on the Scott Coast of the Ross Sea, Antarctica, was named in honor of his research.
Praise For…
---
"The surprising ease which McClintock moves between description and narration is one of the delights of this book...belongs with the works of the Jacques Cousteaus and E.O. Wilsons of the world." —The Anniston Star

"Excellent...I can't think of a fishing book I've read that I've enjoyed more." —The Nature Conservancy blog

"Outstanding...you needn't be a fisherman to enjoy reading A Naturalist Goes Fishing and learning about fishes of the world, their natural habitats and human impacts on their environments and populations." —Tuscaloosa News

"People who fish will...relish [McClintock's] detail." —Minneapolis StarTribune

"An avid fisherman and conservationist romanticizes his beloved waterbound sport, while providing a stark reminder of the ocean's need to be protected." —Coastal Living

"As you read McClintock's riveting accounts and imagine the thrill of the fish on the line, you barely realize how much information you're soaking up. Don't throw this book back. It's a keeper." —Science News

"McClintock, a marine biologist at the University of Alabama at Birmingham, combines work and play as he brings together tales of his professional career studying underwater habitats and a lifetime of recreational fishing." —Publisher's Weekly

"Like all the best nonfiction, A Naturalist Goes Fishing is at once intimate and global. James McClintock shares with readers his immense knowledge of - and deep love for - the world's increasingly threatened waters." —Elizabeth Kolbert, author of THE SIXTH EXTINCTION

"In this unusual tale of outdoor adventure, the reader has a guide of outstanding quality: scientist, expert fisherman, and caring conservationist of the first rank." —Edward O. Wilson, University Research Professor Emeritus, Harvard University

"A veteran scientist and adventurer, James McClintock writes with passion and knowledge of his love of fishing within some of the most beautiful yet threatened waterways on earth. He issues a stark reminder of what's at stake if we fail to replace fossil fuels with clean energy sources." —Robert Redford

"Enjoyable reading for sports fishermen and other outdoor enthusiasts." —Kirkus Reviews