Chronicles of Old San Francisco: Exploring the Historic City by the Bay (Chronicles Series) (Paperback)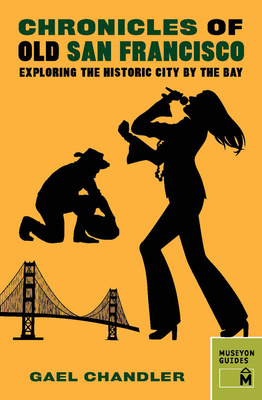 $21.95
Email or call for price.
Description
---
Discover one of the world's most unique and fascinating cities through 28 dramatic true stories spanning the colorful history of San Francisco. Author Gael Chandler takes readers through more than 250 years of American history with exciting essays on topics such as the city's origins to the founding of the Presidio of San Francisco and the Mission San Francisco de Asis to its modern role as the progressive and innovative heart of a nation. Along the way you'll meet characters like the city's foremother Juana Briones, Gold Rush entrepreneur Levi Strauss, confectioner Domenico Ghirardelli, gangster Al Capone, the rock legends of Haight-Ashbury, activist politician Harvey Milk, the pioneers of today's techno boom, and many others who changed the face of the city—plus lesser-known tales, like those of the children of Alcatraz and the story of John McLaren, the architect of Golden Gate Park. In addition, guided walking tours of San Francisco's historic neighborhoods by the bay and beyond, illustrated with color photographs and period maps, take readers to the places where history really happened.
About the Author
---
Gael Chandler is a former film editor who taught editing and digital editing systems. She is the author of three books on film editing. She lives in San Francisco.
Praise For…
---
"San Francisco is such a modern, progressive city that it is easy to forget just what a rich history it has. The eighth title in Museyon's Chronicles series, Chronicles of Old San Francisco explores the City by the Bay. Beautifully illustrated, the guide concludes with eight walking tours, from Chinatown and Nob Hill to Golden Gate Park and Haight-Ashbury." —June Sawyers, Chicago Tribune

"Chronicles of Old San Francisco by Gael Chandler offers a quick reference to the city's history and players in 28 true stories covering 250 years: In it, readers will meet Levi Strauss (think blue jeans), Domenico Ghirardelli (think chocolate), the 'rock legends' of Haight-Ashbury (think Grateful Dead) and many others. Plus, local landmarks and walking tours of unique neighborhoods." —Allen Pierieoni, Sacramento Bee

"You may think you know all the sordid, fascinating history of San Francisco, the so-called Baghdad by the Bay, but author Gael Chandler fleshes them out for you, giving detail about Lotta Crabtree, Levi Strauss, cable car inventor Andrew Hallidie and, of course, Harvey Milk. Plus, she devotes an entire chapter to Herb Caen, so there's that in its favor." —Sam McManis, Sacramento Bee

"This is neither a guide to tourist hotspots nor an exhaustive history that will remain unread on a coffee table or hotel nightstand. Rather, Chandler offers us a portable, curated collection of tales and images that unveil the people and events that have proved instrumental in shaping San Francisco's physical, cultural, and political identity." —Keith Skinner, keith-skinner.com