Baltimore Revisited: Stories of Inequality and Resistance in a U.S. City (Paperback)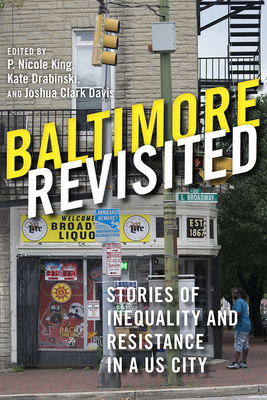 $43.95
Email or call for price.
Description
---
Nicknamed both "Mobtown" and "Charm City" and located on the border of the North and South, Baltimore is a city of contradictions. From media depictions in The Wire to the real-life trial of police officers for the murder of Freddie Gray, Baltimore has become a quintessential example of a struggling American city. Yet the truth about Baltimore is far more complicated—and more fascinating.
 
To help untangle these apparent paradoxes, the editors of Baltimore Revisited have assembled a collection of over thirty experts from inside and outside academia. Together, they reveal that Baltimore has been ground zero for a slew of neoliberal policies, a place where inequality has increased as corporate interests have eagerly privatized public goods and services to maximize profits. But they also uncover how community members resist and reveal a long tradition of Baltimoreans who have fought for social justice.
 
The essays in this collection take readers on a tour through the city's diverse neighborhoods, from the Lumbee Indian community in East Baltimore to the crusade for environmental justice in South Baltimore. Baltimore Revisited examines the city's past, reflects upon the city's present, and envisions the city's future.
About the Author
---
P. NICOLE KING is an associate professor and chair of the department of American studies at the University of Maryland, Baltimore County. She is the author of Sombreros and Motorcycles in the Newer South: The Politics of Aesthetics in South Carolina's Tourism Industry.

KATE S. DRABINSKI is a senior lecturer in gender and women's studies and director of Women Involved in Learning and Leadership, a feminist activist program, both at the University of Maryland, Baltimore County.
 
JOSHUA CLARK DAVIS is an assistant professor of history at the University of Baltimore. He is the author of From Head Shops to Whole Foods: The Rise and Fall of Activist Entrepreneurs.
 
 
Praise For…
---
"Baltimore Revisited presents an important and compelling portrait of Baltimore's past to advocate a more just present and future. Not just a book about Baltimore, this collection can serve as a roadmap for scholars, students, and civic leaders seeking to understand how cities take the shape they do and what can be done to challenge those patterns when they deny justice to citizens."

 
— Rebecca K. Shrum

"The Baltimore School represents a school of thought that seeks to radically change how we understand cities and how we redistribute resources within them, by taking space, race, and political economy seriously. In the years to come, this work will be known as one of the central Baltimore School texts, used to help people understand Baltimore and cities like it, for the purpose of making it (and them) more just and humane." 
— Lester Spence

"Trump's Dehumanizing Attacks on Baltimore Are Hiding an Awful Truth--And He Knows It," op-ed by Nicole King
https://www.newsweek.com/trumps-dehumanizing-attacks-baltimore-are-hiding-awful-truth-he-knows-it-opinion-1452035
— Newsweek

"[The book] is a fascinating accounts of public markets, vacant housing, highways. [It] stimulates curiosity about Baltimore at a time when friends and foes alike cite the city as the epitome of American urban ills."
— Journal of Urban Affairs