Shigidi and the Brass Head of Obalufon (Hardcover)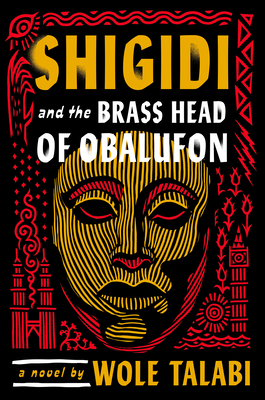 $27.00

Special Order- Usually Ships in 1-5 Days
Description
---
A Washington Post top 10 best science fiction and fantasy book of 2023

"A heist caper with sex, violence, and superpowers popping off every technicolor page." —Publishers Weekly (starred review)

"Defiantly ambitious...an action-packed thrill ride." —The Washington Post

A mythic tale of disgruntled gods, revenge, and a heist across two worlds, perfect for fans of Nnedi Okorafor, Neil Gaiman, Marlon James, and Karen Lord

Shigidi is a disgruntled and demotivated nightmare god in the Orisha spirit company, reluctantly answering prayers of his few remaining believers to maintain his existence long enough to find his next drink. When he meets Nneoma, a sort-of succubus with a long and secretive past, everything changes for him.

Together, they attempt to break free of his obligations and the restrictions that have bound him to his godhood and navigate the parameters of their new relationship in the shadow of her past. But the elder gods that run the Orisha spirit company have other plans for Shigidi, and they are not all aligned—or good.

From the boisterous streets of Lagos to the swanky rooftop bars of Singapore and the secret spaces of London, Shigidi and Nneoma will encounter old acquaintances, rival gods, strange creatures, and manipulative magicians as they are drawn into a web of revenge, spirit business, and a spectacular heist across two worlds that will change Shigidi's understanding of himself forever and determine the fate of the Orisha spirit company.
About the Author
---
Wole Talabi is an engineer, writer, and editor from Nigeria. His stories have appeared in Asimov's, F&SF, Lightspeed, and several other publications. He has edited three anthologies: Africanfuturism, which was nominated for the Locus Award in 2021, Lights Out: Resurrection, and These Words Expose Us. His fiction has been a finalist for multiple awards including the Nebula Award, the prestigious Caine Prize, the Locus Award, the Jim Baen Memorial Award, and the Nommo Award, which he won in 2018 and 2020. His collection Incomplete Solutions is published by Luna Press.
Praise For…
---
Praise for Shigidi and the Brass Head of Obalufon

"Readers of Neil Gaiman and Harry Turtledove will have encountered similar takes on the spirit realm; Talabi's freshness is in his language, his caustically amusing protagonist, and his commitment to having more fun than noir usually allows. Readers are in for a rollicking thrill ride." —Publishers Weekly (starred review)

"Defiantly ambitious...an action-packed thrill ride.... Talabi's snarky narration keeps the tone light, while leaving room for a sweet love story." —The Washington Post

"Talabi keeps in balance his kinetic mix of noir heist fiction, erotic romance, political intrigue, and supernatural fireworks without distracting too much from the genuinely affecting relationship between Nneoma and Shigidi, who are a pair we wouldn't mind seeing again, and won't forget anytime soon." —Locus

"Talabi weaves a high-stakes, fast-paced tale of corporate greed, an interdimensional heist, and warring deities entrenched in Yoruba culture. Perfect for fans of the Ocean's film franchise and Scott Lynch's The Lies of Locke Lamora (2006), this book will have readers holding their breath as Shigidi and Nneoma try to accomplish the impossible." —Booklist

"Rich in lore, deeply referential of the fantasy genre, instructive without being preachy and accessible even to casual readers...a fine display of Talabi's dexterity as a writer and his keen eye for story and a fine demonstration of how grossly underutilized African mythology has been in world fantasy." —Edwin Okolo, The Republic

"An unabashedly erotic and page-turning tale, blending the urban and the mythic in a manner somewhat reminiscent of Neil Gaiman's works, yet fizzing with a kinetic energy which, at least within the genre of contemporary adult fantasy, feels utterly refreshing and gloriously entertaining." —Strange Horizons

"Shigidi and the Brass Head of Obalufon is an explosion made of other explosions. As soon as I read the opening—taut, rollicking, rooted in physicality and emotion—I was charmed. This book is incantation, a sorcerous working that bound me to its story and drew me along as it sped toward its destination. Wole Talabi is a brilliant short fiction writer, and now he is revealed as a brilliant novelist, as well!" —Alex Jennings, author of The Ballad of Perilous Graves

"Fast and sharp as talons, Shigidi is a high-stakes art heist love story with Nigerian gods and demons and some Succession-level corporate politics and Alan Moore-ish deep dives into occult lore and mythologies. If you thought Killmonger was right or loved American Gods and Akata Witch, this one is very much for you." —Lauren Beukes, author of The Shining Girls and Broken Monsters

"Wole Talabi brings us an imaginative tale of ancient deities with modern problems--where answering prayers and winning at the cut throat competition for adherents is the best way to maintain the bottomline. Shigidi is a richly written story of love between immortals, a high stakes supernatural heist, and a sweeping adventure across time, space, and perhaps realms of existence. This is godpunk, done with style. And I'm absolutely here for it!" —P. Djèlí Clark, author of A Master of Djinn and Abeni's Song

"A high octane thriller that is simply unputdownable. Talabi deftly weaves different mythos spanning centuries across continents and borders to create a truly fantastical story. Gods, demons, magicians, giants, all jostling for power and prestige within an all too human story. This remarkable debut rocked my world." —T. L. Huchu, author of The Library of the Dead

"Shigidi is a tale that will excite any lover of contemporary African fantasy. What better thrill than two globetrotting, timetrotting, worldtrotting beings caught between a love story, a heist and a ghastly contract with a spirit company? Talabi's imagination, already obvious in previous works, shines through, offering us a world of deities and monstrosities trading in belief and supplication. An innovative addition to the godpunk roster—if you loved David Mogo, you'll love this!" —Suyi Davies Okungbowa, author of the Nameless Republic trilogy

"For those who feel as if they've been waiting years for a novel by Wole Talabi, Shigidi surpasses expectations. It's fast-paced and fun, clever and beautiful. Filled with characters you want to spend time with in a world that is fresh and exciting." —Temi Oh, author of Do You Dream Of Terra-Two and More Perfect

"Shigidi is a multi-hued narrative where fear is a colour...this is a tale that will unmoor any reader from the safety of their comfort zone to gallivant, stimulated, across spirit worlds and cityscapes." —Aurealis

"Rich in lore, deeply referential of the fantasy genre . . .a fine display of Talabi's dexterity as a writer and his keen eye for story and a fine demonstration of how grossly underutilized African mythology has been in world fantasy." — Edwin Okolo, The Republic