Nine Algorithms That Changed the Future: The Ingenious Ideas That Drive Today's Computers (Hardcover)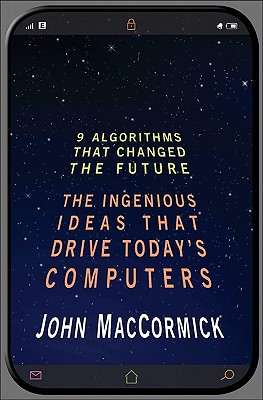 Description
---
Every day, we use our computers to perform remarkable feats. A simple web search picks out a handful of relevant needles from the world's biggest haystack: the billions of pages on the World Wide Web. Uploading a photo to Facebook transmits millions of pieces of information over numerous error-prone network links, yet somehow a perfect copy of the photo arrives intact. Without even knowing it, we use public-key cryptography to transmit secret information like credit card numbers; and we use digital signatures to verify the identity of the websites we visit. How do our computers perform these tasks with such ease?
This is the first book to answer that question in language anyone can understand, revealing the extraordinary ideas that power our PCs, laptops, and smartphones. Using vivid examples, John MacCormick explains the fundamental "tricks" behind nine types of computer algorithms, including artificial intelligence (where we learn about the "nearest neighbor trick" and "twenty questions trick"), Google's famous PageRank algorithm (which uses the "random surfer trick"), data compression, error correction, and much more.
These revolutionary algorithms have changed our world: this book unlocks their secrets, and lays bare the incredible ideas that our computers use every day.
About the Author
---
John MacCormick is a leading researcher and teacher of computer science. He has a PhD in computer vision from the University of Oxford, has worked in the research labs of Hewlett-Packard and Microsoft, and is currently a professor of computer science at Dickinson College.
Praise For…
---
"This book is for those who have wondered, 'What actually goes on in my computer?' MacCormick clearly explains some of the algorithms used by hundreds of millions of people daily. Not the simple algorithms like arithmetic and sorting, but more complex things such as how to determine the importance of web pages, if and when we are justified in trusting a computer-mediated conversation with another person, and the puzzling issue of what cannot be computed. I recommend it highly."--Chuck Thacker, winner of the 2010 Turing Award
"MacCormick does a great job of explaining sophisticated ideas in a simple way, and his analogies are wonderful. I particularly enjoyed the thoughtful and detailed historical asides."--Amy N. Langville, coauthor of "Google's PageRank and Beyond: The Science of Search Engine Rankings"