Klara and the Sun: A Novel (Large Print / Paperback)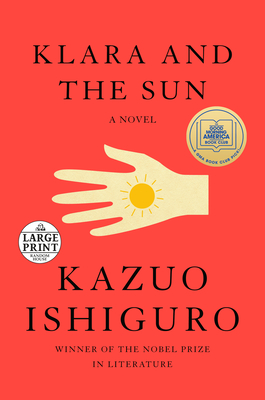 $30.00

Special Order- Usually Ships in 1-5 Days
March 2021 Indie Next List
---
"Klara and the Sun from Nobel-winner Kazuo Ishiguro is a radiant new novel about the bond between Klara, an Artificial Friend, and Josie, her human companion. The setting, a dystopian realm of genetic editing and stark class divisions, is not surprising given the author's previous work, yet Ishiguro's immense, unwavering portrayal of kindness is astonishing and revitalizing. Classic Ishiguro themes of loyalty, friendship, and sacrifice weave through the novel, but the thread of love runs deep, giving the book warmth and hope so that the earned twist feels more like a dawn than a sunset. Whether you're returning to Ishiguro or discovering his voice for the first time, I'm excited for you. This is a chance to bask in the brilliance of one the greatest writers of our time."
— Caroline McGregor, Books & Books, Coral Gables, FL
Description
---
NEW YORK TIMES BEST SELLER • Once in a great while, a book comes along that changes our view of the world. This magnificent novel from the Nobel laureate and author of Never Let Me Go is "an intriguing take on how artificial intelligence might play a role in our futures ... a poignant meditation on love and loneliness" (The Associated Press). • A GOOD MORNING AMERICA Book Club Pick!

"What stays with you in 'Klara and the Sun' is the haunting narrative voice—a genuinely innocent, egoless perspective on the strange behavior of humans obsessed and wounded by power, status and fear." —Booker Prize committee

Here is the story of Klara, an Artificial Friend with outstanding observational qualities, who, from her place in the store, watches carefully the behavior of those who come in to browse, and of those who pass on the street outside. She remains hopeful that a customer will soon choose her. Klara and the Sun is a thrilling book that offers a look at our changing world through the eyes of an unforgettable narrator, and one that explores the fundamental question: what does it mean to love?
About the Author
---
KAZUO ISHIGURO was born in Nagasaki, Japan, in 1954 and moved to Britain at the age of five. His eight previous works of fiction have earned him many honors around the world, including the Nobel Prize in Literature and the Booker Prize. His work has been translated into over fifty languages, and The Remains of the Day and Never Let Me Go, both made into acclaimed films, have each sold more than 2 million copies. He was given a knighthood in 2018 for Services to Literature. He also holds the decorations of Chevalier de l'Ordre des Arts et des Lettres from France and the Order of the Rising Sun, Gold and Silver Star from Japan.
Praise For…
---
A NEW YORK TIMES NOTABLE BOOK • A BOOKER PRIZE NOMINEE • GOOD MORNING AMERICA Book Club Pick • ONE OF PRESIDENT OBAMA'S FAVORITE BOOKS OF THE YEAR • ONE OF BILL GATES'S FAVORITE BOOKS OF THE YEAR • ONE OF THE BEST BOOKS OF THE YEAR: The New York Times, Time, NPR, Washington Post, Vogue, USA Today, Town & Country, The Guardian, Vulture, and more

"One of the most affecting and profound novels Ishiguro has written….I'll go for broke and call Klara and the Sun a masterpiece that will make you think about life, mortality, the saving grace of love: in short, the all of it."
—Maureen Corrigan, NPR

"A delicate, haunting story, steeped in sorrow and hope."
—Ron Charles, The Washington Post

"What stays with you in 'Klara and the Sun' is the haunting narrative voice—a genuinely innocent, egoless perspective on the strange behavior of humans obsessed and wounded by power, status and fear." —Booker Prize committee

"It aspires to enchantment, or to put it another way, reenchantment, the restoration of magic to a disenchanted world. Ishiguro drapes realism like a thin cloth over a primordial cosmos. Every so often, the cloth slips, revealing the old gods, the terrible beasts, the warring forces of light and darkness."
—Judith Shulevitz, The Atlantic

"Ishiguro's prose is soft and quiet. It feels like the perfect book to curl up with on a Sunday afternoon. He allows the story to unfold slowly and organically, revealing enough on every page to continue piquing the reader's curiosity. The novel is an intriguing take on how artificial intelligence might play a role in our futures...a poignant meditation on love and loneliness"
—Maggie Sprayregen, The Associated Press

"For four decades now, Ishiguro has written eloquently about the balancing act of remembering without succumbing irrevocably to the past. Memory and the accounting of memory, its burdens and its reconciliation, have been his subjects… Klara and the Sun complements [Ishiguro's] brilliant vision…There's no narrative instinct more essential, or more human."
—The New York Times Book Review

 "A prayer is a postcard asking for a favor, sent upward. Whether our postcards are read by anyone has become the searching doubt of Ishiguro's recent novels, in which this master, so utterly unlike his peers, goes about creating his ordinary, strange, godless allegories."
—James Wood, The New Yorker

"One of the joys of Ishiguro's novels is the way they recall and reframe each other, almost like the same stories told in different formats...Again and again, Ishiguro asks: What does it mean to be human? What does it mean to have a self? And how much of that self can and should we give to others?"
—NPR

"Moving and beautiful… an unequivocal return to form, a meditation in the subtlest shades on the subject of whether our species will be able to live with everything it has created… [A] feverish read, [a] one-sitter…  Few writers who've ever lived have been able to create moods of transience, loss and existential self-doubt as Ishiguro has — not art about the feelings, but the feelings themselves."
—The Los Angeles Times

"As with Ishiguro's other works, the rich inner reflections of his protagonists offer big takeaways, and Klara's quiet but astute observations of human nature land with profound gravity . . . This dazzling genre-bending work is a delight."
—Publishers Weekly [starred review]

"A haunting fable of a lonely, moribund world that is entirely too plausible."
—Kirkus Reviews [starred review]

Praise from the UK:

"There is something so steady and beautiful about the way Klara is always approaching connection, like a Zeno's arrow of the heart. People will absolutely love this book, in part because it enacts the way we learn how to love. Klara and the Sun is wise like a child who decides, just for a little while, to love their doll. "What can children know about genuine love?" Klara asks. The answer, of course, is everything."
—Anne Enright, The Guardian

"Flawless . . . This is a novel for fans of Never Let Me Go, with which it shares a DNA of emotional openness, the quality of letting us see ourselves from the outside, and a vision of humanity which — while not exactly optimistic — is tender, touching and true."
—John Self, The Times

"With its hushed intensity of emotion, this fable about robot love and loneliness confirms Ishiguro as a master prose stylist."
—Ian Thomson, The Evening Standard

"It is innocence that forms Ishiguro's major subject, explored in novels at once familiar and strange, which only gradually display their true and devastating significance."
—Jon Day, The Financial Times

"The novel is a masterpiece of great beauty, meticulous control and, as ever, clear, simple prose."
—Bryan Appleyard, The Sunday Times

"A deft dystopian fable about the innocence of a robot that asks big questions about existence"
—The Financial Times