The House of Serendipity (Hardcover)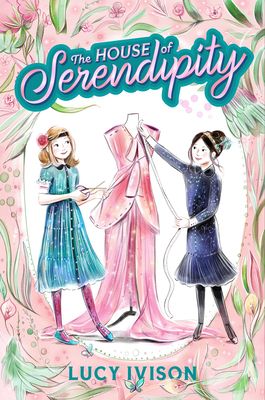 $16.99

Special Order- Usually Ships in 1-5 Days
Description
---
Fans of Shannon Hale's Princess Academy series and budding fashionistas everywhere will love this charming, delightful middle-grade novel about two girls with a talent for dressmaking set in 1920s London.

The perfect dress can change everything.

When talented young tailor Myrtle Mathers becomes a maid for the Cartwright family, she thinks her days of sketching and stitching are over for good. That is, until Sylvia Cartwright runs into a big problem--her older sister's debutante ball is about to be ruined by a truly horrendous dress. Desperate, Sylvia calls on Myrtle to help her save the night, and a serendipitous partnership begins.

Their design catches the eye of London's debutantes, so when one practically begs Myrtle and Sylvia to dress her, the two girls make a plan: create something special for her without revealing their true identities. If people find out what Myrtle and Sylvia are up to, it could spell disaster for the girls' futures.



But as it turns out, the debutante is looking for more than just a gorgeous outfit--she needs a disguise that will help her escape high-society life forever. And for Myrtle and Sylvia, what starts as a plan to prove their design skills soon becomes a secret mission to defy expectations.

A fabulous, fantastical adventure through 1920s London, this delightful series opener celebrates the magic of friendship, fashion, and being yourself.
About the Author
---
Lucy Ivison is a librarian at a girls' school in Central London, providing a never-ending stream of inspiration for her books. She co-wrote A Totally Awkward Love Story, Never Evers, and Freshmen with her childhood sweetheart Tom Ellen, but is now writing on her own, putting her experience with tween girls to good use by focusing on what she knows they love: fashion, adventure, and friendship.

Find Lucy on Twitter @lucyivison

Since graduating from the University with a degree in illustration, Lucy Truman has worked prolifically on lifestyle, publishing and design commissions. Inspired by her love of fashion, people watching and retro design, Lucy's illustration style encapsulate an aspirational yet accessible sensibility. Lucy has produced numerous book covers and book series for publishers globally.
Praise For…
---
"A charming tale of sisterhood woven together with fashion, history, and subterfuge." - Kirkus Reviews

"It's a treat to follow the girls around 1920s London, soaking up sparkling dialogue and delicious descriptions of fanciful frocks and wild schemes. Young fashion-forward readers will do well to try this one on for size." - Booklist

"A witty and whimsical creation, stitched together with hope and charm. A celebration of the power of friendship and standing up for what's right." - Anna James, author of Pages & Co

"Fun, glamorous and absolutely brimming with charm." - Catherine Doyle, author of The Storm Keeper's Island and co-author of the upcoming Twin Crowns

"This book is such a total GEM. A hilarious, giddy and warm book about two young fashion designers in debutante season, with themes of class, friendship, and girls finding agency within strict social structures. It's like a fashion Chocolat meets Bridgerton for kids." - Holly Bourne, author of It Only Happens in the Movies