Republican Jesus: How the Right Has Rewritten the Gospels (Hardcover)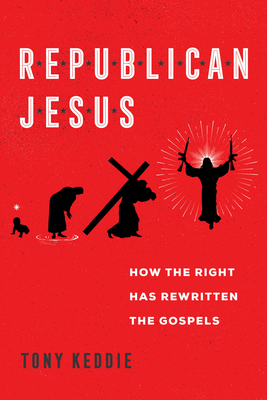 $24.95

Special Order- Usually Ships in 1-5 Days
Description
---
The complete guide to debunking right-wing misinterpretations of the Bible—from economics and immigration to gender and sexuality.
Jesus loves borders, guns, unborn babies, and economic prosperity and hates homosexuality, taxes, welfare, and universal healthcare—or so say many Republican politicians, pundits, and preachers. Through outrageous misreadings of the New Testament gospels that started almost a century ago, conservative influencers have conjured a version of Jesus who speaks to their fears, desires, and resentments.

In Republican Jesus, Tony Keddie explains not only where this right-wing Christ came from and what he stands for but also why this version of Jesus is a fraud. By restoring Republicans' cherry-picked gospel texts to their original literary and historical contexts, Keddie dismantles the biblical basis for Republican positions on hot-button issues like Big Government, taxation, abortion, immigration, and climate change. At the same time, he introduces readers to an ancient Jesus whose life experiences and ethics were totally unlike those of modern Americans, conservatives and liberals alike.
 
About the Author
---
Tony Keddie is Assistant Professor of Early Christian History and Literature at the University of British Columbia and author of Class and Power in Roman Palestine and Revelations of Ideology.
 
Praise For…
---
"Witty, insightful . . . . A thorough, convincing study that's perfect for anyone flummoxed by misuses of the teachings of Jesus."
— Publishers Weekly
"Accessible and gracefully written."
— Religion Dispatches
"Engaging, well organized, and historically informed, this book will be valuable not only for those interested in the study of Jesus but also for students of US politics."
— CHOICE
"Keddie's book makes an accessible, well-written, witty, and utterly convincing case for scholarship on the (often dangerous) politics of biblical citation in the US. One hopes it will send readers to their libraries in search of much more."
— Reading Religion